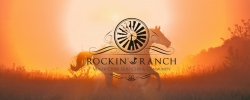 Blanco, TX, November 01, 2016 --(
PR.com
)-- Rockin' J Ranch, a historic ranch of more than one-thousand acres in the heart of Texas Hill Country, announced the first in a series of events to be hosted in collaboration with the Vaaler Creek Golf Club at 288 John Price, Blanco, TX 78606. The first event will take place on November 5, 2016 from 11:00AM to 4:00PM.
This first event in a series of events scheduled for the upcoming year will feature music by Fast Movin' Train, local cuisine, bounce houses, and golf tours. Attendees will be invited to learn more about the development and all it has to offer its property owners first hand.
Rockin' J Ranch is one of many developments owned by Rinco of Texas and Colonel Lee Roper. Roper, a long-time resident of the area, and his company have been ultimately responsible for successfully developing more than 30 properties across the Texas Hill Country, including locations in Comal, Blanco, and Bexar counties.
Roper has long been passionate about developing the local area in a way that preserves the harmony of the land, highlights the natural beauty of the Texas Hill Country, and benefits local residents. "The people here want the country lifestyle. We are working hard with an exceptional team to ensure that none of our developments are going to negatively affect local business or cause major changes in city development," said Roper.
"It's about growing local businesses, improving the local economy, and providing the experience people are looking for in this beautiful countryside," Roper stated in reference to the new programs launching. The event will signify the launch of the Rockin' J Ranch Preferred Builder Program, highlighting the most well-rated, customer-focused builders in the local area.
Admission is free to the public and the event is child-friendly, so everyone in the area is invited to attend and enjoy a community-building celebration of the city of Blanco and the beauty of the Texas Hill Country. Roper wanted to celebrate his upcoming birthday in a big way and this event was the perfect opportunity to bring the community together for as day of fun on the Ranch.
For more information on Rockin' J Ranch, visit
WelcometoHillCountry.com
or call Rockin J's Sales Office at (830) 833-2266.
About Rockin' J Ranch: This historic ranch of more than a thousand rolling acres breaks new ground with a championship 18-hole golf course. Set amidst ancient sea beds and limestone canyons, the course features wide open fairways with natural springs and creeks meandering throughout. Preserving the historic presence of the ranch is most important with some of the 150-year old homes and landmarks being incorporated into the clubhouse and golf course design. Vaaler Creek Golf Club at the Rockin' J opened all 18 holes July of 2009.