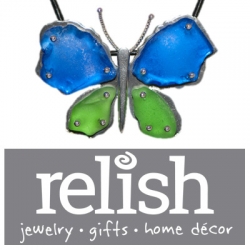 Erie, PA, November 07, 2016 --(
PR.com
)-- Relish has partnered with the Bayfront Sheraton to offer overnight package deals for the 2017 Great Lakes Beach Glass & Coastal Arts Festival.
The festival is scheduled for April 29th and 30th, 2017. Vendors from across the country are coming to Erie, Pa's Bayfront Convention Center. There will also be live music, wine tasting, bottle and shard ID, a fun and interesting lecture series, antique bottle collections, and up to 90 artists exhibiting hand made one-of-kind coastal themed artwork.
The event, hosted by Relish, Studio & Gallery, will be held at Erie's 29,000 square foot Bayfront Convention Center from 10 a.m. to 5p.m. Saturday, April 29th and 10 a.m. to 5 p.m. Sunday, April 30th. Tickets are only $5 each day and children 6 and under are free.
"This festival is going to be over-the-moon fun!" said Terri Reed, co-owner of Relish Jewelers. "With over 4,400 in attendance last year, we are anticipating an even larger, enthusiastic and vibrant crowd. Attendees can expect to have an amazing - and affordable experience."
The packages are offered in a range of prices, and if you reserve before Nov 30, you will receive an extra 10% discount! Contact Erie's Bayfront Sheraton's Emily Chiapazzi at 814-240-7249 and use the promo code 'Relish'.
In addition to the great art, the public can sample wine from Penn Shore Winery and Vineyard. They will be on hand exhibiting and selling their private-labeled local wines. Educational booths on ecology and the environment will help make this a family friendly event. There is also a popular gift basket raffle with items donated from businesses and art vendors, from which all the proceeds will go to a local non-profit.
There is free parking with overflow parking available at the nearby Liberty Park with free shuttles on Saturday that will transport attendees to the convention center. You may also contact Terri Reed or Jennifer Reed for more information by phone at 814-836-1827.