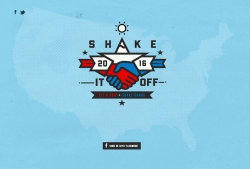 New York, NY, November 08, 2016 --(
PR.com
)-- Shake It Off
The Post Election Digital Effort That Invites Citizens of All Stripes To Shake & Make Up.
This presidential campaign has been the most contentious and divisive in modern history.
80% of all Americans say they can't wait for it to be over. And nearly 50% say that they expect political divisions to increase, regardless of the winner. So Flint & Steel wanted to launch an effort to encourage reconciliation and unity post election. www.ShakeItOffUSA.com allows people to share a digital handshake on their Facebook account. "So much of the language from the politicians, pundits, and even in the marketing sphere seemed a bit cynical to us. So we wanted to launch a heartfelt effort to encourage people to 'Get A Grip' and shake hands now that this tumultuous campaign comes to a close," said CCO Chris McKee. "We wanted to give people a genuine opportunity to start mending the divide that this campaign has revealed."
The site lets you choose your party affiliation and state of residence, and then share a video handshake. Each handshake will be posted with a variety of different, unifying messages. It's a small gesture but one that feels urgent and essential. Not only can visitors share their digital handshake, they can see how many handshakes have been offered by party and state.
"We wanted to create a simple social tool that asked everyone to - Please Shake A Hand And Show That Our Faith In Our Democracy Hasn't Been Shaken." The site will launch election night Nov. 8th.
Site:
https://shakeitoffusa.com
For any questions or info contact –
Chris McKee
cmckee@flintandsteel.com
www.flintandsteel.com