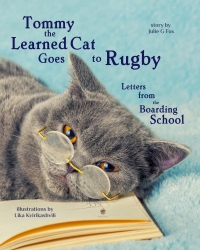 San Francisco, CA, November 09, 2016 --(
PR.com
)-- Rugby School, founded in 1567, is one of the oldest and greatest schools in the world which is about to turn 450 years old. The big serious book for grown-ups "From Elizabeth to Elizabeth" which chronicles Rugby School's 450-year history is about to be released. But what about our young readers? No, they are not overlooked! The beautifully illustrated children's book "Tommy the Learned Cat Goes to Rugby: Letters from the Boarding School" follows adventures of Tommy the Learned Cat and his favourite human Annee Brown as they embark on their boarding life in Tudor House in one of the most exciting places to live and study!
Often called the 'Feline Version of Harry Potter', Tommy is a British Shorthair cat determined to join Annee, a boarder at Rugby, in all of her exciting activities at the school, from lessons to concerts to drama rehearsals to push-car races to international tours with the school's choir to Carnegie Hall, New York. Tommy also learns Rugby School's fascinating 450-year history and discovers that many famous former pupils made their mark in the world throughout the centuries, from writer Lewis Carol, the author of Alice in Wonderland, to William Webb Ellis, founder of Rugby football.
Tommy the Learned Cat character is the brainchild of Clever Fox Press, a Charitable Publisher founded by a former refugee and children's author Julie G. Fox. Clever Fox Press authors, produces and distributes children's picture books which introduce important social and scientific concepts in addition to educating children about the plight of children refugees from Syria, Ukraine and other countries affected by war. All the proceeds from sales of our books are donated to charities assisting children refugees. Our illustrators, writers and toy-makers come from all over the world, often from countries affected by war and economic crisis.
Next year Tommy the Learned Cat will be making a comeback in his second book, "My Favourite Shop on Webb Ellis Street," in which he discovers the rich history of Rugby town which traces itself to Iron Age settlement.