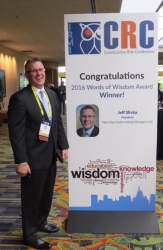 Hamilton, NJ, November 17, 2016 --(
PR.com
)-- Jeff Slivka, President of New Day Underwriting Managers, was recently honored with the Words of Wisdom (WOW) Award at the 36th IRMI Construction Risk Conference held in Orlando, Florida. The award is provided annually to conference speakers for their outstanding contribution to the construction industry, unselfish sharing of risk and insurance expertise, and exceptional presentation skills.
"The WOW Award recognizes the best of the best," said IRMI president and CEO Jack Gibson. "Jeff is only the 27th winner in an elite group of more than 1600 IRMI speakers. He has consistently received rave reviews not only for his subject matter command, but the way he actively works to educate audiences through his practical real-world experiences."
Throughout his career, Slivka has spoken extensively at events such as IRMI, CFMA, AGC, MCA and others. He has also assisted over 50 percent of the Engineering News Record (ENR) Top 400 Construction firms to manage their environmental and/or construction professional liability risk.
"Jeff has spent the past 25 years dedicated to the insurance industry," says Jefferey S. Lejfer, New Day's CEO. "He has not only tirelessly worked to advance his knowledge, but help everyone at this firm and our clients gain a better understanding of the intricacies and trends that are constantly shaping and reshaping our field."
"Honors like these are the most rewarding," adds Slivka. "Working to know more and then sharing this information with our many customers and colleagues is what we do best. Education and the mastery of details is the foundation of our success and ongoing growth."
New Day Underwriting Managers is a leading specialty intermediary of environmental and construction-related professional liability insurance coverage firm, which Slivka helped found in 2005. Over the past decade, the company has grown from a three-person firm to an award-winning agency with hundreds of customers and business partners nationwide.
For more information on New Day Underwriting Managers products and services, please visit www.newdayunderwriting.com or call 609.298.3516.
About New Day Underwriting Managers LLC
New Day Underwriting Managers LLC is a specialty resource for agents and brokers, assisting them and their clients find appropriate, high-quality environmental and construction-related professional liability insurance coverages. The company offers agents and brokers single-point access to an ample portfolio of products and services provided by the nation's largest environmental and professional liability insurance providers. More information about the company is available on their website at www.newdayunderwriting.com.