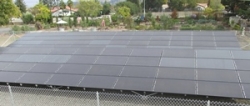 Novato, CA, November 18, 2016 --(
PR.com
)-- The solar system is ground mounted in a visible location near the parking area, demonstrating to the Congregation the Church's commitment to the environment and sustainability. The solar system will reduce the church's electricity bill by over $9,000 in its first year of operation.
The array is comprised of 96 Suniva 270-watt solar panels. Each of the 96 solar panels is controlled by a microinverter, manufactured by Enphase Energy of Petaluma, CA. Microinverters are small, compact units directly attached to each solar panel to convert power independently at the panel, maximizing energy production and reducing impacts from shading. Overall system efficiency is increased by 10 - 12%.
The Church's solar electric panels will spare the air nearly 30 tons of harmful greenhouse gases annually. Over 25 years the system is estimated to offset 873,840 kWh of electricity and the air pollution saved will be equivalent to eliminating over 2.4 million miles of driving or planting 13 acres of trees.
About St. James Catholic Church of Petaluma
St. James Catholic Church was the second Catholic Church built in Petaluma. It was founded in 1964 and dedicated in 1966. Its architecture is reminiscent of the adobe structures built by early settlers, and the interior is finished in redwood, acknowledging its location in the heart of the redwood empire. There have been three pastors in its history: Fr. Charles O'Leary, Fr. Michael Cleary, and Fr. Michael Culligan. All three priests were born in Ireland. Just as the Irish are famous for their faith and friendliness, you'll find those virtues in the parish of St. James.
SolarCraft, a 100% Employee Owned Company, is one of the most trusted and experienced solar energy contractors in California. Since 1984, this certified Green Business has been providing high quality solar electrical, solar pool heating and solar water heating services to homeowners and businesses, employing licensed and certified solar installers. With more than 6,000 satisfied customers and over 3 million square feet of solar collectors installed, SolarCraft is committed to Quality Design, Quality Materials and Customer Service.
www.solarcraft.com