OWN TV's Actress Kendra C. Johnson Hosts the 25th Annual "Double Dutch Holiday Classic" at the World-Famous Apollo Theater
The Super Bowl of Double Dutch celebrates their 25th Annual Double Dutch Holiday Classic with competing teams from across the globe including the U.S., France, Japan, Morocco and more countries.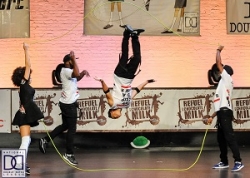 New York, NY, November 21, 2016 --(
PR.com
)-- OWN TV Star of Tyler Perry's "Love Thy Neighbor" Kendra C. Johnson comes aboard as the official spokesperson and host of the David A. Walker Memorial annual Double Dutch Holiday Classic at the world famous Apollo Theater (253 W. 125 Street, New York, NY) on Sunday, December 4, 2016 from 1:00 - 4:00 P.M. presented by the National Double Dutch League.
For the celebratory 25th year, the fit and curvy Ms. Johnson will join Lauren Walker, President and daughter of the late founder of the National Double Dutch League, David A. Walker, to host "the Super Bowl of Double Dutch" where national and international communities, come together for a tournament featuring three categories:
Speed & Compulsory (fastest team)
Fusion Freestyle (double dutch choreographed with music) - participating Fusion Freestyle teams compete for "Best of Show," the Championship Title of the Holiday Classic.
Best in Show - the Championship title for the best Fusion Freestyle team
The competition highlights double dutch teams performing singles (three participants), doubles (four participants) and Fusion Freestyle (six participants).
This year's participants come from Africa (Morocco and South Africa), Belgium, Dominican Republic, France, Japan, Trinidad and U.S. states which include Connecticut, District of Columbia, New Jersey, New York City, North Carolina and South Carolina. The 2016 Double Dutch Holiday Classic is sponsored by American Dairy Association & Dairy Council, Coca-Cola, Eastsport, ConEdison and New York Daily News.
About Kendra C. Johnson:
From stage, to television and the silver screen Kendra C. Johnson has been humbled by the blessings of her entertainment career for more than ten years. Most known for her role as "Linda" on the highly successful OWN situation comedy Tyler Perry's Love Thy Neighbor this Hartford, CT native's past work includes a co-starring role as "Stacey" in the independent feature Phat Girlz, in which she starred alongside Academy Award winner Mo'Nique - and a recurring role as the strong-willed, "Renee Royce" on the hit television series The Game.
​
About National Double Dutch League (NDDL):
In 1973, David A. Walker (then a New York City Police Community Affairs Detective) developed the street game of Double Dutch into the World Class Sport that it is today. Since that initial tournament in 1974, competitive Double Dutch has expanded with citywide and national championships. Nearly 100,000 girls and boys representing schools and community centers throughout the United States and world compete for team positions at the national and international events. The NDDL 25th Annual, David A. Walker Memorial, Double Dutch Holiday Classic makes possible speed and music fusion events for the best Double Dutch teams in the world. Each year, since 1992, the Double Dutch Holiday Classic has previously sold out to parent supported, standing room only audiences.
For Press Inquiries: Wilson Marshall PR + Events, wilsonmarshallnyc@gmail.com, 646.721.4375
Contact
Wilson Marshall PR + Special Events
Kimberly Marshall
646-721-4375
wilson-marshall.tumblr.com

Contact