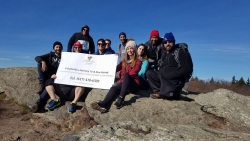 Newburyport, MA, November 27, 2016 --(
PR.com
)-- Hiking Hearts drives to help those in need, physically, emotionally and mentally. ABJ helps individuals and families struggling with grief after the loss of a child or other early loss, to find hope and a new normal. One of the services which ABJ provides is "Choose-To-Heal" photos. These emotion-evoking photos are both cathartic for the griever and help raise awareness while opening discussion on the difficult topic of grief.
Hiking Hearts founder, Brandy Sales says, "We chose to support ABJ because of the unique blend of art and healing they use in their photography healing sessions. The process is amazing and the results are important for more individuals and families to experience."
ABJ founder, Barbara J Hopkinson, is also founder of The Compassionate Friends (TCF) of Greater Newburyport, MA, which supports family after a child dies. It is one of 700 TCF chapters in the US as well as a presence in 30 countries. She explains, "TCF chapters all over the world participate in an Annual Worldwide Candle Lighting on Sunday, December 11th, at 7PM local time — forming a 24-hour memorial around the globe. We host it every year for local grieving families, but are grateful to be able add this healing photo shoot to the candle event due to the generosity of Hiking Hearts."
A dozen volunteer hikers conducted a loop hike on Mt Witactic in northeastern MA on Saturday, November 12th. The holidays are a difficult time for most grieving families. Grievers express themselves visually by writing washable messages on their skin, alone or in groups. ABJ sends them copies of their photos — as a memorial and a catalyst to open discussion on their grief with friends and family. Hiking Hearts and ABJ would greatly appreciate your support for this combined event.
Donations can be made at
http://www.hikinghearts.com/make-a-donation.html
The Choose-To-Heal photo shoot starts at 5P EST at 64 Northern Blvd, Plum Island, Newbury, MA, wrapping up at 6:30PM before the Candle Lighting at 7PM. Email questions to info@abutterflysjourney.org or call 617-410-6309.
"ABJ believes that grievers can choose to heal and find a new normal, and that is what their lost loved ones would want for them," Hopkinson notes. "We want to find innovative ways to help them do just that. It's all about the love."
ABJ also offers a free online Resource Center with ten categories of resources for grievers. Barbara is certified in Grief Recovery Method, used internationally for 35 years, an action-based grief recovery program for individuals or groups. For more information, visit
http://abutterflysjourney.org
.
About Hiking Hearts
The Hiking Hearts is a charitable organization that is geared towards beginner and family hikes. They offer monthly beginner/family friendly hikes, and various events to support our community, partners, and charities. They are a leader in philanthropic hiking.
About A Butterfly's Journey
A Butterfly's Journey is a 501c3 non-profit organization founded by Barbara J Hopkinson, a local Plum Island resident, who lost three of her four children. She has led The Compassionate Friends of Greater Newburyport for 13 years, is an author of multiple books and a Certified Grief Recovery Specialist. ABJ helps families struggling with grief after the loss of a child or other early loss to find a new normal.
About The Compassionate Friends
Through a network of almost 700 chapters with locations in all 50 states, as well as Washington, DC, Puerto Rico, and Guam, The Compassionate Friends has been providing support to bereaved families after the death of a child for four decades.
Contact:
Barbara Hopkinson
A Butterfly's Journey To A New Normal
barbara@abutterflysjourney.com http://abutterflysjourney.com
617-410-6309
P.O. Box 872
Newburyport, MA 01950
Or:
Brandy Sales
Hiking Hearts
brandy.Sales@gmail.com
http://hikinghearts.com