Home Caregivers Introduces New Website for Northern Virginia Family Caregivers
Home Caregivers this week is introducing a Family Learning Center® on its website, http://flc.ipced.com/HCG making it easier for family caregivers to find training and support resources to help them better care for the needs of their loved ones at home.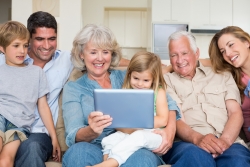 Fairfax, VA, November 28, 2016 --(
PR.com
)-- The Family Learning Center is free for family caregivers who provide home care for friends or loved ones who are homebound, suffer from a debilitating disease or who are simply aging and need companion care. The site includes over 50 training topics created just for family caregivers that cover everything from basic caregiver training, to transitioning of care, to Alzheimer's disease and memory care.
"Our Family Learning Center courses focus on multi-generational family caregiving and are designed to be immediately available to families who need help, but don't always know where to turn for information or support," said Robin Lee, Administrator and Owner. "We wanted to make it easy for family caregivers to always have a caregiving resource to turn to whenever they need it. The Family Learning Center is that resource and it's available online 24/7, simply by logging on to our website."
Family caregivers need only visit http://flc.ipced.com/HCG and register with their name and email address. Once registered, caregivers are provided a list of courses that will take them step-by-step through a specific topic with engaging and interactive video. The courses are narrated, but can also be read onscreen, allowing caregivers to learn through the method most comfortable to them. In addition to courses, the Family Learning Center provides a selection of videos and tip sheets that focus on relevant and timely topic for the family caregiver.
"There aren't a lot of resources available to family caregivers to make their challenges easier," Lee said. "The new Family Learning Center is one way we can help. We hope it answers a lot of questions, gives them some much-needed training and support and allows caregivers to keep their loved ones more comfortable and remaining at home."
About Home Caregivers:
Home Caregivers' mission is to provide personalized, non-medical services to individuals in the comfort of their own home. We also serve as a resource company for clients, relatives, or other persons involved in the client's support and care. Our primary goal is to alleviate the under looked problem of caregiver role strain that exists in our society today. The primary outcome we would like to achieve is that everyone involved in the clients' care will have the resources for an improved quality of life.
Home Caregivers thrives as reputable company by maintaining values and providing excellent customer service. Our focus is placed on these key components to enhance our services:
· Reliable, professional, and caring staff with background checks and drug screening
· Specialized caregiver training
· Development of personalized goals with our Personal Health Supporters™ program that provides measurable goals and outcomes with feedback for clients and families
· Continuous education -- not only for staff, but for families and clients as well
· Innovative technology to enhance communication with staff, clients, and families
· 24/7 Concierge and RN Support with our resource hotline
Home Caregivers is owned and operated by Registered Nurses with over 10 years of critical care/clinical education experience. If you have any questions or would like more information, feel free to contact Home Caregivers at (888) 655-8846 to schedule an appointment. Also, visit our website at
www.homecaregivers.info
.
Contact
Home Caregivers
Robin Lee
888-655-8846
www.homecaregivers.info

Contact