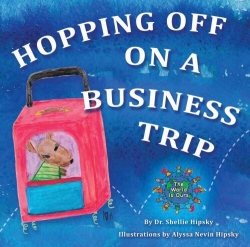 Pittsburgh, PA, December 13, 2016 --(
PR.com
)-- Dr. Shellie Hipsky, editor-in-chief of Inspiring Lives Magazine and president of the Global Sisterhood non-profit, released her first children's book Hopping Off on a Business Trip on December 13, 2016.
The book was inspired by her own struggle to help her children understand that when she had to speak at a conference out of town, she was thinking about them and coming back as soon as possible. Using a family of kangaroos based on her own family, Dr. Hipsky lets the child kangaroos express their feelings about Mommy being gone, as well as their coping mechanisms.
"I wanted to develop a fun book that encouraged children to use their imaginations to cope with their moms leaving for a couple days," Dr. Hipsky said. She did just that. Sister kangaroo Savannah explains to her brother Cecil that she imagines herself traveling with Mommy on all her adventures. When Grandma (GrandRoo) makes a special surprise to help Cecil, Dr. Hipsky's work demonstrates the ability of a family to come together to solve a problem.
Dr. Hipsky takes this idea to heart, having her own daughter, Alyssa Nevin Hipsky, illustrate the book. At just 9 years old, Alyssa did an internship with artist Kathleen Belskey to hone her artistic talents and develop the illustrations for the book cover and interior.
"It has been my dream to collaborate with her on a big project," Dr. Hipsky said. "Alyssa always helped with my fundraisers when I did shows for the Homeless Children's Education Fund, and even this year, she modeled for Fly Tots - a children's line from California - at the Inspiring Lives Magazine Launch Party. Asking her to illustrate my first children's book - as well as the rest of the books in the series to come - is just another step for us to bond while creating together."
The World is Ours book series starts with Hopping off on a Business Trip and will continue with other books that help children understand situations in their daily lives. Dr. Hipsky plans to take children around the world with these books, featuring animals from a different continent - as well as fun facts about them - in each.
Hopping off on a Business Trip is available on Amazon.com and barnsandnoble.com, as well as at most major bookstores. Dr. Hipsky and Alyssa's first book signing will be December 23 at 2 pm at the Pittsburgh (Pa.) Children's Museum. A portion of the proceeds from the series' book sales will go to the Global Sisterhood, which donates to multiple charities that focus on the care and education of women and children.
Contact: Kelly Frost, VP of Inspiring Lives International
Phone: 412-335-8939