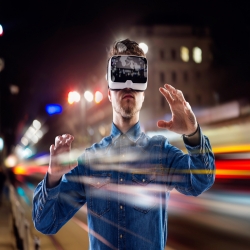 Seattle, WA, December 26, 2016 --(
PR.com
)-- A few days ago, VRMarket, a virtual reality marketplace announced they were open for business. After months of planning and following the trends of the virtual reality industry, they decided to go ahead with a concept similar to another major online auction site but for virtual reality goods.
The idea behind VRMarket was simple, to create a "used" or "second hand" marketplace where anyone could securely sell, rent and trade their unwanted VR goods across the world, allowing more people access to the virtual reality market without the high price tag.
Some of the marketplace features include:
-Listing of VR studios
-Ability to rent VR equipment
-Selling of VR tech and software including VR headsets, controllers, 360 videos and VR games
-Allow users to sell their goods in VR
Of the recent launch, VRMarket's founder, Ed Miickschel said, "The prices of virtual reality gear are still way to high, not many people can afford the high price tags and to make VR and AR more available to more people we need to eliminate this. I came up with the idea of VRMarket whilst searching for VR headsets, which is essentially a classifieds site for virtual reality.
"I am a big fan of VR and would like to make it more popular sooner, right now it's simple, you either have a decent computer and pay the VR companies Buck or you buy a top spec smartphone."
Click here to visit -
VRMarket - The Virtual Reality Marketplace
The VRMarket app is coming soon to Android and IOS to bring you a true Virtual shopping experience.