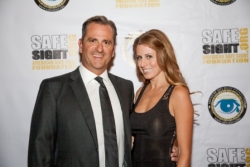 San Juan Capistrano, CA, December 25, 2016 --(
PR.com
)-- Dr. Jim Sears, of CBS's award winning The Doctors Show, spoke for the babies and the smallest of the smallest babies who needed a voice.
Dr. Sears knows babies, in fact his entire family (brothers & father) are pediatricians. His mother is a pediatric nurse as is his wife, Jess. As a pediatrician known best for his family's kid-centric practice in the charming little coastal town of San Juan Capistrano, "Dr. Jim" is loved by his littlest patients and parents alike. Dr. Jim gave the babies a voice in his keynote Speech at The American Safe Sight Foundation (ASF) annual gala on November 21st in the cozy beach-side town of Dana Point, California.
Over one hundred VIP guests and community medical leaders gathered as Dr. Jim Sears spoke on behalf of the premature babies in neonatal units (NICU) all across the U.S. who are needlessly exposed to a preventable, sight threatening viral eye infection through no fault of their own.
Cluster infection outbreaks from fully preventable, unsanitary equipment and inadequate sterilization have been well known in neonatal units where the most delicate of delicate and struggling preemies are nurtured in incubators.
Preemies are known to be at risk for very special eye conditions caused by their failure to develop fully in the mother's womb. As a result, preemies must undergo an eye examination in the neonatal unit. It is therefore a tragic consequence of these unsterile eye exams with contaminated equipment by ophthalmologists whereby these preemies are quite needlessly exposed to any variety of intractable eye viruses, particularly "EKC" or Epidemic Keratoconjunctivitis. EKC remains a viable threat to infant health and eyesight, with potential lifelong eye damage and corneal injury.
Dr. Jim Sears in particular referenced the large series data from the Centers for Disease Control (CDC) reports whereby outbreaks in U.S. neonatal intensive care units were reported.
Dr. Jim Sears' speech and video is available on www.SafeSight.Org, the American Safe Sight Foundation's website for EKC prevention.