Bioscience Americas Names Addition to Its Board of Advisors
Dr. Firas M. Kara joins Board to assist with Bioscience Americas international development efforts.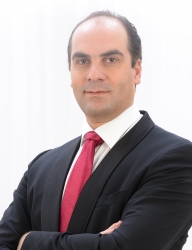 Phoenix, AZ, January 03, 2017 --(
PR.com
)-- Bioscience Americas, a leading developer of stem cell clinics worldwide, is pleased to announce that Dr. Firas M. Kara of Fort Wayne, Indiana has joined the Bioscience Americas Board of Advisors.
Dr. Kara holds dual MD and PhD degrees from Heinrich Heine University in Düsseldorf, Germany. He completed a Residency in Internal Medicine at Berkshire Medical Center/ University of Massachusetts Medical School. Dr. Kara is currently specializing in interventional pain management with an emphasis on non-operative spine care. He believes in a comprehensive, compassionate approach to patient care with a focus on improving patient function. He is a renowned specialist in the discipline of pain management and is a member of the American Society of Interventional Pain Physicians (ASIPP).
Dr. Kara's affiliation with Bioscience America is devoted to state of the art care in the area of stem cell in order to help people suffering from a variety of inflammatory, autoimmune disease and degenerative conditions.
Dr. Kara has received numerous awards for his research including the Award for Excellence in Research from New York University School of Medicine and the Young Investigator Award from the American Society for Bone and Mineral Research for excellence in bone and mineral research. His research expertise was gained at the New York University Hospital for Joint Diseases and the New York University School of Medicine where he received a patent for osteoporosis treatment.
His research has focused on the areas of DNA sequencing and biochemistry including protein isolation and characterization as well as Mesenchymal stem cell commitments and bone mineral density and osteoporosis. Dr. Kara's research has been published many times in leading medical journals.
In commenting on Dr. Kara's appointment to the Board of Advisors, Bioscience Americas CEO Eric Stoffers lauded Dr. Kara's scientific accomplishments and said that his advice and consultation will be invaluable as the company moves forward with its business plan. "Dr. Kara will be a key player as we implement our goal to be the leading developer of stem cell treatment clinics throughout the world. He will be an excellent advisor to us, as well, as we move forward with our plans to develop orthopedic treatment centers here in the United States," Mr. Stoffers said.
Bioscience Americas is the international development partner of the Global Institute of Stem Cell Therapy and Research (GIOSTAR), a consortium of stem cell research scientists from around the world. During 2017 Bioscience Americas, in collaboration with GIOSTAR, intends to open stem cell clinics in South and Central America as well as Australia and Saudi Arabia.
Contact
Bioscience Americas
Bill Deegan
480-454-7996
www.bioscienceamericas.com

Contact