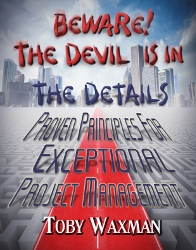 Santa Clarita, CA, January 06, 2017 --(
PR.com
)-- Rising to the level of exceptional project management requires a powerful set of skills, knowledge and technical expertise acquired through years and years of experience. The new business book, "Beware! The Devil Is In The Details: Proven Principles For Exceptional Project Management," unpacks over 30 years of such experience and expertise.
Just released, "Beware! The Devil Is In The Details. . ." is already receiving 5-Star Reviews:
"If you are expecting some boring textbook that merely defines what project management is and describes its history then this is not the book for you. This book is not merely a collection of project management information. Instead, it rises above that and gives the reader something of much greater value - insight. Thirty plus years of 'in the trenches' firsthand experience distilled into seventeen, quick to read, chapters each filled with invaluable insight. Whether you are an aspiring project manager, midway in your career, or thinking that you are on top of the food chain in your industry; this book contains treasures and tools to help you hone your skill set even further. An outstanding book for any business manager that as the title says, is interested in 'Exceptional Project Management.' I have recommended this book to all of my project management staff." -Ron Druschen, President, SRC West, Inc.
The book is by nationally published author Toby Waxman, CEO & Founder of Entitlement Strategies Group, Inc., a full-service Land Use Entitlement consulting firm serving the entire Pacific Southwest. Her professional accolades include: the prestigious National Homebuilding Association Award for Local Legislative/GA Program Achievement for the Western Region of the United States; Building Industry Association Los Angeles & Ventura Chapter Award of Excellence; and a BIA Builder of the Year Nominee. An accomplished writer with numerous articles published in national periodicals: Professional Builder, HousingZone & Housing Giants Magazines.
Available in 2 Editions on
amazon.com
Contact:
editor@graphicquill.com
Graphic Quill Media
Santa Clarita, CA
818 425-5099
www.graphicquill.com