Huckworthy Partners with UKintheUSA to Offer Easy Entrance Into the US Marketplace for British Technology Companies
UKintheUSA will leverage Huckworthy's infrastructure and distribution channels to reduce costs and risks for small UK companies to offer their products and services into the US marketplace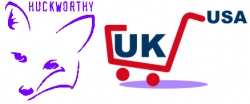 Washington, DC, January 11, 2017 --(
PR.com
)-- Huckworthy is pleased to announce a new alliance with UKintheUSA LLC, a new Washington DC based company dedicated to distributing British technologies into the US marketplace.
The company will leverage Huckworthy's infrastructure and distribution base to offer British technology companies a cost effective and low risk entry into the US market. "With Brexit pending, favorable exchange rates and US openness to new a bilateral trade agreement with the UK, there has probably never been a more opportune time for UK companies to enter the US market," said David Howgill, President of Huckworthy, "UKintheUSA is the way to do that with the strongest chance of a successful US launch at the lowest level of risk. Huckworthy's 20+ years of transatlantic product launch and distribution chain experience allows potential clients to focus on their products, core markets and future - while we focus on their expansion into the USA."
UKintheUSA offers turnkey distribution packages to suitable partners, and/or managed infrastructure for UK companies looking for a way to reduce risk but sell through their own fully owned US entity or subsidiary. UKintheUSA is also partnering with local government and the leaders in the legal, accounting and immigration to ensure your US entity - or product - the best chances of success at the lowest risk, and the highest return.
UKintheUSA is a new Washington DC based Limited Liability Company focused on assisting transatlantic trade between the UK and USA. For more information contact info@ukintheusa.com.
Huckworthy is an established technology company in Washington DC with over 20 years' experience bringing UK technologies into the US marketplace, and taking disruptive US technologies to the world. Huckworthy is a US Department of Defense Mentor Protégé Program partner under The Boeing Company. For more information contact info@huckworthy.com
Contact
Huckworthy LLC
David Howgill
202-507-6220

Contact