PatientClick Inc. is Rolling Out Its New Telemedicine Solution for Mental Health; Behavioral Health Professionals
PatientClick Inc. is rolling out its new Telemedicine Solution for Mental health; Behavioral health professionals. This new product has transformed the way how patients connect and engage with therapist or providers. More details about the solution are available at http://patientclick.com/.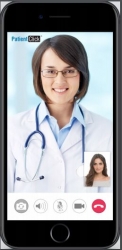 San Diego, CA, January 31, 2017 --(
PR.com
)-- PatientClick, Inc. a company based in San Diego, CA, has recently announced the release of its new mental health focused Telemedicine Solution that is designed to revolutionize the way how patients with mental health disorder interact and engage with healthcare providers such as psychiatrist or psychologists. With this technology, the patient will be able to engage with the available psychologists and/or psychiatrists through virtual consultation. The healthcare provider will be able to communicate via multiple options of telemedicine interface; such as smart phone, tablet or computer. Care providers would be able to provide psychiatric care with more convenient options for patient to connect to clinic digitally. The patient may also securely communicate with clinic staff and view the preventative plan of action based on their age, gender, and current health conditions.
The new Telepsychiatry Telemedicine Solution allows clinicians such as psychologists and psychiatrists to reach out to their patients beyond geographical boundaries of their clinics. PatientClick's Tele health solution requires no onsite servers, no heavy capital investment, and it is an easy to install solution that will help clinical staff to focus on patient care. Apart from this, the application allows clinics and physicians to establish secure audio/video connections with patients along with the use of an integrated Electronic Health Record system. The solution allows physician to continue using existing EMR or EHR and still be able to provide medical care to remote patients using the PatientClick interface. It's standalone telemedicine solution with store and forward option. Furthermore, the technology allows physicians to reconcile multiple HL7 messages and CDA files to get a complete picture about what is going on with the patient.
According to Ash Mehta, CEO of PatientClick, Inc. "This true TelePsychiatry solution might be possible alternative to overcome national shortage of available mental health professionals and psychiatrist." With the help and expertise of PatientClick, patients are assured that they will receive the best user experience when interacting with their Physician on a virtual consultation.
The solution is accessible by Mac or PC as it is true cloud-based solution with native iPad and iPhone app available upon request. Aside from this, the solution help reduced the inconvenience of traveling for patient or medical professionals; and also enables electronic prescription directly from the system including controlled substance prescription specially used by mental health professionals. Some of the key features of PatientClick Telemedicine platform include options such as Scribe Interface, Quick telemedicine medical record or Chat Notes, web-based SaaS EHR and Practice Management system.
About the Company
PatientClick offers innovative online electronic health record & practice management solutions designed and built specifically for physicians and multi-specialty medical clinics. It is Meaningful stage 2 and Meaningful Stage 3 modular certified EHR solution. The service provides true Software-as-a-Service (SaaS) solution, with no costly hardware to install and with a minimal amount of time required to get up and running. The specialty-specific EMR software service covers more than 30 medical specialties, and can be customized to fit the individual needs and workflow of any physician office. For more information, visit PatientClick on the web at www.patientclick.com, or call 1-877-901-9990.
Contact
PatientClick EHR
Gregg Opper
877-901-9990
www.patientclick.com

Contact