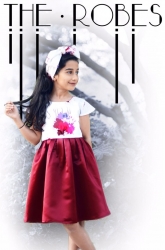 Abu Dhabi, United Arab Emirates, January 25, 2017 --(
PR.com
)-- The Robes unveils the new lines that will be showcased at the Abu Dhabi Bride Show; announcing its color mix for its first ever Junior collections, which will be introduced during the big, official Fashion event in the United Arab Emirates. The Robes Junior Paint, as it is named by TR brand specialists, is made of six different mix of colors in the shape of random paint print, the colors are carefully chosen and selected from over 5000 thousands scanned images from all different sources of creatively made images. The six mix of colors for The Robes Junior Paint are purple, fuschia, maroon, rose, magenta, and denim.
The Robes SIX MIX is said to be symbolic of "Fashion of Next Generation" as described by branding specialists as the mix of freshness, and fullness of future knowledge, that is how the future generation are described by The Robes Junior branding specialists. "They are totally different than us in our early ages, because they have direct and continuous access to knowledge which enhances and solidates the fresh minds of the youngers," said Noura Aj, The Robes CEO.
The Robes, a joint brand between Italian fashion designers and UAE Fashion investors, opens its first Fashion House in Abu Dhabi - Khalifa City, in which the robes introduces its six lines of fashion products under its brand "The Robes" that includes six stripes to reflect the six lines and six mix as well. The six lines are Ready To Wear, Abayas, Junior Fashion, Cosmetics, Bags, and Jewelry.