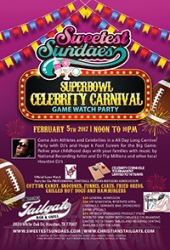 Houston, TX, January 31, 2017 --(
PR.com
)-- The Push Media Group in conjunction with Christians Tailgate Houston, The Sports Girls and Flip Stylz Entertainment, will host all star caliber athletes, Hall of Famers, entertainers, reality television stars, entertainers and influencers for two nights of partying for a purpose.
The first event dubbed Players and Pets Blackout will include athletes and celebrities walking animals currently up for adoption from three Houston area rescues, Mutt Mesh Rescue, Pug Hearts and School of Wags. Dogs of all sizes and background will be featured and information on the adoption process is available on site from the rescues.
The second event will be an all day carnival style atmosphere celebrity Big Game watch party and celebrity elimination cornhole tournament. Hip Hop recording artist and producer Kia Shine will perform leading up to the game. Up and coming singer, songwriter and actor, Torion will also perform.
A special DJ set by national recording artist, DJ Flip Millionz will occur during both days along with DJ Pete Mash on Sunday.
Join the Lifetime Network and special guests identical twins, Andrea and Amanda Salinas from the Little Women of Atlanta, who will walk a dog up for adoption along with help a team hoepfully win the a spot in the cornhole championship.
Where:
Christians Tailgate Heights Location
2820 White Oak Drive
Houston, TX 77077
When:
Friday February 3rd
4pm to Midnight
Adoptable Animal Fashion Shows
530pm and 730pm
Sunday February 5th
Noon to 10pm
Performances and Cornhole Tournament 2 to 5pm
Who:
Confirmed to Walk Animals
Quinton Aaron- Actor, From the Move The Blind Side, Eric Martinez, Breaking Bad and other Hollywood Shows, Monica Abbott, Pro Softball Pitcher, Houston Scrap Yard Dogs 2008 Gold Medal Olympian, Matt Stover, 2x Super Bowl Winner Baltimore Ravens, Dr. Jen Welter, First NFL Female Coach, John Brenkus, ESPN Sports Science, Chloe Montgomery, 2016 Miss Little Black and Natural, Donovan Greer, Former NFL Cornerback, Manuel Golden, Celebrity Dog Trainer, Josie Canseco, Victorias Secret Model and Daughter of Jose Canseco, Amanda and Andrea Salinas of Little Women Atlanta, Eddie Robinson, Former Houston Dynamo Star, Mike Chabala, Former Houston Dynamo Star, Wilberto Cortes aka Dr. Hourglass, Celebrity and International Plastic Surgeon, Vincent Glass, Actor Breaking Bad
Other Invited Guests to Both Events
Rob Riggle
Full Cast of E TV'S WAGS
Santana Moss
Nick Lowery
Marshall Faulk
DJ Irie
Santonio Holmes
Demarcus Ware
Billy Cundiff
Billy Davis
Jarvis Green
Avery Johnson
Kirk Cousins
Demaryius Thomas
Kyle Rudolph
Tickets available for General Admission starting at $25 and VIP starting at $60 Table and Bottle Service Available
Ticket info
https://playersandpetblackout.eventbrite.com
https://sweetestsuperbowl.eventbrite.com
For more information or to request media credentials and interview requests contact the following below. Limited credentials avaiable. All requests will be reviewed and media outlets notified 48 hours prior to event.
Media Contacts
Sol Tucker
Push Media Group
sol.tucker@pushmediagroup.com
301.442.5627
Beth Silverberg
The Sports Girls
beth@thesportsgirls.com
305.725.3615
Chris Alan
Christians Tailgate
832.472.3625