IndieGo Publishing Releases Fictionalized Biography of Magnus Sucatus Patricius, the Man We Know as St. Patrick
Magnus Sucatus Patricius was born in the 5th century to a wealthy family of minor Romano-British nobility. This young man foreswore everything - life, birthright, comfort, and home - to serve God by serving the people who had enslaved him for six years. Open the pages of Magnus Patricius: The Remarkable Life of St Patrick, the Man by Patrick G. Cox to read a first-person fictionalized account of his life and ministry amidst the crumbling and fast-changing Roman Empire.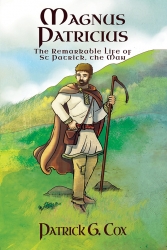 Daytona Beach, FL, February 06, 2017 --(
PR.com
)-- St Patrick is the most well-known saint in the world. Mention his name, and many people think of St Patrick's Day parades, parties, and green beer, or leprechauns and four-leaf clovers decorating office cubicles and classroom walls, with everyone wearing green for good luck. But when you get past all the revelry, you're left with the question: Who was St Patrick, the man? Can the modern reader possibly relate to this humble man who lived 1500 years ago?
Author Patrick G. Cox superbly answers those questions in the pages of his newest book, "Magnus Patricius: The Remarkable Life of St Patrick the Man," published by IndieGo Publishing LLC. This is a fictionalized biography of St Patrick's life told in the first person, as if he is sitting next to you by a warm fire in a stone cottage on a cold hillside in Ireland telling you his life story.
"Magnus Patricius would be uncomfortable with the designation of saint," says Cox. "He was a humble man who was haunted his entire life by a secret sin committed when he was just a teen, something he never explained in detail, but his confessors knew of it. Some of them, in their false piety, held it over his head for the duration of his ministry. But he served the people of Ireland out of love for them and a firm conviction that he was following God's call on his life. His iconic presence as the symbol of Ireland stands as a testimonial to his service."
There were several attempts on St Patrick's life, but he survived them all. Thanks to his writing, his is the one authentic voice we have from fifth-century Britain. Open the pages of "Magnus Patricius: The Remarkable Life of St Patrick the Man," and walk in his humble footsteps through slavery, freedom, marriage and fatherhood, and a ministry built on the practical expression of Christian faith and love.
Born in Cape Town and educated at Selborne College in East London, South Africa, Patrick G. Cox is a published technical author and lecturer, and a retired firefighter after thirty-six years of soot, heat, blood, sweat, and laughter. Cox is the author of A Baltic Affair, Limehouse Boys, and the Harry Heron series published by IndieGo Publishing LLC.
The hardcover edition (9780997602173) of "Magnus Patricius: The Remarkable Life of St Patrick the Man" is distributed and available for wholesale purchase through Lightning Source/Ingram, the paperback (9780997602166) through Amazon and other online bookstores, and the ebook (9780997602180) through Kindle.
Contact
Patrick G. Cox
0049 6128 94 5672 (Germany)
http://www.harryheron.com/
You may also contact IndieGo Publishing at indiego.ebooks@gmail.com

Contact