JewelryBund Inc., a Professional and Innovative Wholesale Jewelry Supplier Offers 20,000+ Fashion Jewelry Styles
Leading wholesale jewelry supplier offers 20,000+ wide range of jewelry collections and innovatively develop according to the world jewelry trends so as to serve buyers worldwide.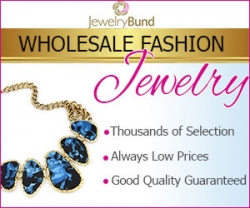 New York, NY, February 24, 2017 --(
PR.com
)-- A fashion jewelry collection that includes everything from necklaces and bracelets to earrings and rings and each piece is offered at a factory wholesale rate for the convenience of any interested business. Usually, it is hard for resellers or buyers to find a jewelry supplier that works on all lines of jewelry with a wide range of fashion style choices at an affordable cost. JewelryBund.com is an amazing source for buying wholesale jewelry for the purpose of reselling.
JewelryBund Inc. is a great place for any business owner looking to buy
wholesale jewelry
. It is a wholesale business that offers 20,000+ different styles of jewelry and accessories at amazing wholesale prices. Their merchandise is available for business owners all over the world and currently it is one of the leading manufacturers and wholesalers of jewelry and accessories.
Every piece you find at JewelryBund is high quality and made by the best techniques out there. These pieces are capable of matching world-class standards and everything goes through strict quality assurance processes to make sure that everything turns out just perfect. This wholesale business is suited for buyers who are looking to make a high quantity purchase. Since each item is available at a low price, it gives business owners the perfect chance to purchase stock for their own business.
The owners of JewelryBund are always working to ensure that they incorporate the latest jewelry trends at the time of designing their pieces. The service team is available to update the new jewelry items on a regular basis so that the clients have something new to look forward to. It carries 20,000+ styles of fashionable jewelry which ranges from rose gold jewelry to crystal jewelry. Since they manage 3 different jewelry factories in China, any jewelry piece you find will be available at the lowest prices because no miscellaneous costs go into their making.
For JewelryBund, the safety and privacy of their clients is super important. The information they collect from buyers is always kept highly secure in order to prevent any mishaps or leaks. They accept various payment options which include debit cards, credit cards, Paypal, Western Union, bank-wire and e-check. They also have a dedicated professional jewelry business supporting service with more than 8 years of experience in the business. Their world-class client service will act as a guide for all start-up jewelry businesses.
JewelryBund ships to more than 200 countries worldwide at super cheap rates. The parcels are delivered within 3-6 business days after being dispatched. In addition to that, an online tracking number is also forwarded to the buyer so that they can keep track of their parcel.
This is the chance for business owners all over the world to purchase wholesale jewelry at discounted rates. Kick start your business today by purchasing from JewelryBund.
Contact
JewelryBund Inc.
Richard Lee
+8615627428000
www.jewelrybund.com/
WhatsApp: +8615627428000

Contact