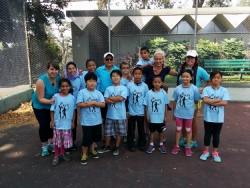 Victoria, BC, Canada, February 09, 2017 --(
PR.com
)-- Three years ago, Dr. Sy Silverberg, a retired physician, was looking for ways to "give back."
An avid tennis player, he believed there had to be many kids who could derive the physical, social and emotional benefits the game had to offer, if only they could afford equipment and lessons.
KATS – "The Society For Kids At Tennis" was born.
He assembled a small group of like-minded players and they planned on working with 30 to 50 kids each summer. Were they in for a surprise. Last month, in less than 3 years, they surpassed the 5,000 participant mark.
"We now cover most of 'Greater Victoria' and partner with 41 social agencies and schools. In addition to the financially disadvantaged, we are working with kids with cognitive and/or physical disabilities such as Autism and Down Syndrome. Obviously there was a need in the community that had not been addressed," says Silverberg.
"This idea could not have grown at the phenomenal rate it has without the dedication of our volunteers, who now number 54. Also, the generosity of our financial supporters has been remarkable."
Supporters include:
Canadian Tire Jumpstart, The Victoria Foundation, BC Community Gaming, CFAX Santas Anonymous Fund, The Royal Bank, The National Bank, Telus, Coast Capital, Tennis Canada, ParticipACTION, CKNW Orphans Fund, TLC Fund for Kids, Victoria Real Estate Board, Peninsula Co-op and South Island Tennis Association.
Silverberg says, "Our heart-felt thanks to all! We look forward to doubling our enrollment and reaching the 10,000 mark!"