More Couples Have Become Intrigued by the BDSM Lifestyle
Do you know what it means to be a "Dom" or a "Sub"? What about a "Switch" or a "Flexible"? The BDSM Lifestyle has now become more mainstream thanks to popular movies such as "Secretary," "Fifty Shades of Grey," and the upcoming sequel "Fifty Shades Darker." Dating Coach and BDSM & Polyamory Advisor, Alan Roger Currie offers a "BDSM 101" introductory course for women and couples who are interested in exploring the world of erotic domination and submission, and kinky and fetish-oriented sex lives.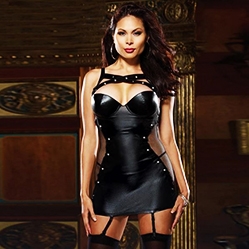 Hollywood, CA, February 10, 2017 --(
PR.com
)-- Decades ago any public discussion related to men and women's sex lives was considered very "taboo" and "socially inappropriate." In the 21st century, the media and the general public's reaction to sex talk has become far more free-spirited. That said, discussions about extremely kinky sex and unconventional sexual fetishes and practices border on still being perceived as "taboo" by many prudish factions in society.
"Many men and women in society are much kinkier behind closed doors than they would ever reveal to many of their friends or the general public," says Alan Roger Currie, who is a professional Dating Coach for single heterosexual men as well as a BDSM & Polyamory Lifestyle Advisor for women and couples.
BDSM is an acronym for Bondage / Discipline and Domination / Sadism and Submission / Masochism (also referred to as simply "S&M" or "S/M"). This is a sexual lifestyle that involves one partner behaving in a very erotically dominant manner while one or more partners behave in an extremely obedient and erotically submissive manner. The Polyamory lifestyle represents when a married or unmarried couple maintain more than one sexual companion at any given point in time.
Currie, who is also known as a "Professional Dominant Sir" (which is the male equivalent of a woman operating as a Professional Dominatrix) among his clients, explains that there are at least three types of "sexual personas" that are widely accepted in the world of BDSM:
- "Dom," "Top," "Master," or "Mistress": This is a man or woman who takes on the role of the erotically dominant partner in a sexual relationship 99.9% of the time;
- "Sub," "Bottom," or "Slave": This is a man or woman who takes on the role of the erotically submissive partner in a sexual relationship 99.9% of the time; The term "slave" refers to a man or woman involved in the BDSM lifestyle who volunteers to only be erotically submissive to one dominant partner exclusively for an indefinite period of time;
- "Switch," "Flexible," or "Versatile": When a man or woman maintains at least one sex partner who they behave in an erotically submissive manner with, while also maintaining a completely different sex partner who they are always erotically dominant with, this would represent the behavior of a "Switch"; When a man or woman vacillates between behaving in an erotically dominant manner and an erotically submissive partner with the exact same sex partner, this would represent the behavior of a "Flexible" or "Versatile";
Currie credits movies such as "Fifty Shades of Grey" and its sequel, "Fifty Shades Darker" among others for shedding light on the world of Kink, Fetish, and BDSM. "Many reports have come out in the last few years stating that more and more men, women, and couples are incredibly curious about alternative sexual lifestyles such as BDSM and Polyamory. For a lot of couples, married and unmarried, the old traditional model of conservative sex and strict monogamy just doesn't cut the mustard any longer," added Currie, who is the host of an adults-only podcast program titled "The Erotic Conversationalist."
Currie consults with some of his clients in a face-to-face manner, but he communicates with the vast majority of his clients via Skype and/or telephone. "I conduct many 'erotic training sessions' and 'BDSM 101' courses with women and couples from various cities in the U.S. and abroad. African-American women were initially reluctant to participate in the BDSM lifestyle, but they are warming up to the idea slowly but surely. I work with clients of all races and ethnicities though," said Currie. Currie also mentioned that one study was conducted in 2013 that found that couples who practice BDSM experience less arguments in their marriage or relationship, they experience a higher degree of romantic and sexual passion, and maintain greater mental health and peace of mind than couples who do not practice BDSM.
More about Alan Roger Currie:
Alan Roger Currie was born in Gary, Indiana and is a graduate of Indiana University in Bloomington, Indiana. Currie has been a Men's Dating Coach and Book Author since 2006, and he has been a BDSM & Polyamory Advisor for women and couples since 2010. Currie is the author of a number of eBooks, paperbacks, and audiobooks, including "Mode One: Let the Women Know What You're REALLY Thinking" and "Oooooh ... Say it Again: Mastering the Fine Art of Verbal Seduction and Aural Sex."
Episodes of Currie's adults-only podcast program, "The Erotic Conversationalist," can be found by clicking
here
.
Contact
Mode One Multimedia, Inc.
Alan Roger Currie
1-219-789-1948
http://www.amazon.com/Alan-Roger-Currie/e/B002BLQ9Q0/
Ms. Adrienne Yates (Publicist): 1-614-975-5690

Contact