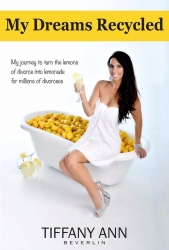 Orlando, FL, February 16, 2017 --(
PR.com
)-- Yet again, Tiffany Ann Beverlin has shown that the only thing standing between you and success after divorce is a positive attitude.
This unlikely Author, went from unemployable single mother of 3 to CEO of a multi-million-dollar divorce company, and now she is sharing that story with you in her book "My Dreams Recycled." Launch February 17th 2017.
https://www.amazon.com/Dreams-Recycled-Tiffany-Ann-Beverlin/dp/0998268623/
Based on the inspirational true story of how one women, turned the adversity known as divorce into a successful business helping other divorcees.
Tiffany was much like any other divorcee after her divorce. Being a female entrepreneur or women in business was the last thing she ever thought she was capable of. However, through an inconceivable turn of events, a few tears, many mistakes and a fortuitous dream, she found her divorce "happier ever after," may not be what she expected. Creating a place for divorcees, Dreamsrecycled.com, full of hope and divorce support, became her passion and in turn one of the most inspirational divorce stories ever shared. She also is a contributing blogger for Huffington Post, Thrive Global, SheSavvy and Onmogul.
This book will remind both men and women going through any kind of adversity, that with a dream, and a positive mindset you can really turn lemons into lemonade after any set back.
Reviews-
"Tiffany is a true inspiration. Her story about rebuilding her life and reclaiming her power is moving, empowering and inspiring.
"This is a must read for anyone who has had their foundation in life break around them and need inspiration to rebuild. Tiffany's raw, vulnerable and authentic share of her story is appreciated! I seriously was so addicted to this book and could not put it down once I started it." -Belinda G Ontario
"My Dreams Recycled is a real page-turner - it's a raw, brave, and inspiring read for anyone who has been through a divorce or found themselves dating again after years of being 'off the market'. Tiffany shares her experience and innermost feelings through the divorce that so many of us can relate to, but not nearly enough people talk about. So much of this reality is swept under the rug and simply not talked about in society, but it was so refreshing reading Tiffany's honest account of what divorce is really like and what it means on all fronts. I found myself laughing, crying, and saying, 'you go, girl!' This is a must-read. Highly recommended." -Krista W.
Contact info-
Tiffany Beverlin Tiffany@dreamsrecycled.com
PR info- Info@dreamsrecycled.com
407 353 4845