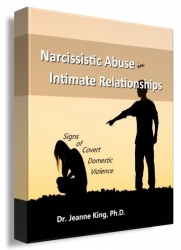 Boulder, CO, February 16, 2017 --(
PR.com
)-- Is narcissistic abuse in your intimate relationship?
Narcissistic abuse has a selfish, uncaring evil ring to it. When you hear it singing from within your relationship, you know you are in danger. You know the inevitable harm done when you ignore/tolerate/enable these dynamics. But, your whole life rests on this relationship working. Whether you have years or children binding you to your partner, you realize that change is an absolute must.
And you ask, how? Begin by learning to identify and understand narcissistic domestic abuse.
Narcissistic Abuse in Intimate Relationships
eBook supports you in recognizing how to interrupt this insidious cycle. It reveals the subtle and significant signs of narcissistic abuse as they live within intimate relationships. You get perspective on the dynamics underlying controlling behavior, helping you break the cycle of verbal and emotional, abusive control in intimate relationships.
"Narcissistic Abuse in Intimate Relationships" eBook…
~ Reveals the 7 tell-tale signs of narcissistic abusers, showing you the underlying psychology and politics of narcissistic abuse in intimate relationships.
~ Illustrates how stirring the FOG (fear, obligation and guilt) serves a narcissistic abuser in their securing your compliance, equipping you with insight to hold your own in the interest of what's right for you.
~ Shows you how
narcissistic personality
characteristics serve as the structural basis for the intimate partner abuse, giving you a liberating clarity that can serve you in therapeutically transforming the dysfunctional dynamics.
~ Looks under the covers intimately at the relentless pressure of sexual coercion, helping you appreciate the true meaning of the word consent in sexual relationships.
~ Clearly captures the classic behavioral symptoms of narcissistically abusive people: no rules, no responsibility, no remorse, emotionally exploitive, coercive control, assumes unearned privilege (un-entitled entitlement), helping you see these red flags, and recognize that this is truly not about you.
~ Shows you why it's never enough and what the discard phase is really about, giving you a perspective that frees you to reach for your highest good whether within the relationship or beyond the relationship...And more.
"Narcissistic Abuse in Intimate Relationships" eBook sets you on the path toward healing and creating an intimate relationship of mutual honoring, equality and respect.
"Narcissistic Abuse in Intimate Relationships" eBook is authored by Dr. Jeanne King, Ph.D., psychologist and consulting expert in
domestic abuse
intervention. She is the leading expert in the subtle communication patterns of upscale intimate partner abuse, and has authored over 530 articles and 12 eBooks on domestic abuse. Dr. King helps couples throughout the United States and Canada end and heal from
abusive relationship
dynamics.
The easy, informative read is available online in a downloadable PDF file eBook. All proceeds from the sales of Narcissistic Abuse in Intimate Relationships eBook support the work of Partners in Prevention, a 501c3 nonprofit dedicated to ending domestic abuse.
For additional information, please visit:
www.enddomesticabuse.org/narcissistic_abuse.php