Silicon Carbide Products, Inc. (SCP) Releases New Line of Epoxy Adhesive
SCP releases both a low viscosity and a high viscosity epoxy adhesive for use in the installation of ceramic components in severe industrial environments.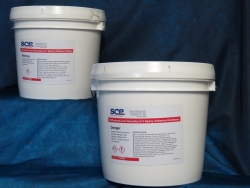 Horseheads, NY, February 16, 2017 --(
PR.com
)-- Silicon Carbide Products, Inc. (SCP), an industry leader in custom manufactured Silicon Carbide components, has released a new suite of trowelable epoxy adhesive products. These products are specifically designed for adhering ceramic components and have excellent adhesion qualities to both metal and cement. SCP has developed both a low viscosity product, SCProbond™ LV-1 and a high viscosity product, SCProbond™ HV-1. The SCProbond™ LV-1 low viscosity adhesive is suitable for installing components in horizontal applications. The SCProbond™ HV-1 high viscosity is a high strength, low sag version for vertical and overhead tiling applications. These adhesives are a non-corrosive epoxy system specially formulated to adhere ceramic components into aggressive wear applications commonly found in material handling, power generation, mining, and petroleum applications.
"In an effort to better serve our customers, it only made sense to offer a quality solution for bonding our silicon carbide products," says President and owner, Martin Metzger. "These two part epoxies are easy to mix easy to spread and provide a functionally cured bond in only 8 hours."
The new epoxy adhesive products will be available for sales and distribution as early as Mar 1, 2017. Technical bulletins and Safety Data Sheets are currently available upon request. To submit an inquiry please contact Rick Cleveland at 607.562.8599 or via email at rcleveland@scprobond.com.
About Silicon Carbide Products, Inc.
Silicon Carbide Products, Inc. offers customers significant ceramic manufacturing experience including consultation on application and design for manufacturability. SCP's stringent quality control process and commitment for industry best delivery goal to our global customer base makes us a favored choice of our customers. SCP is headquartered in Horseheads, NY and offers a variety of components manufactured with their SCProbond™ N and SCProbond™ R industrial ceramic materials for use in mining, coal fired power plants, material transport, molten non-ferrous metals, petroleum, and large component applications.
Contact
Silicon Carbide Products, Inc.
Rick L. Cleveland
607-562-8599
www.scprobond.com

Contact
Multimedia
SCProbond LV-1 Ceramic Adhesive Technical Bulletin
SCProbond HV-1 Ceramic Adhesive Technical Bulletin