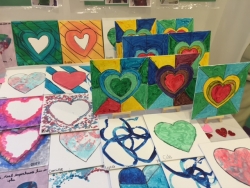 Franklin Lakes, NJ, February 18, 2017 --(
PR.com
)-- Preschool Art Auction Raises $2,500 for Make-A-Wish Foundation.
Each month, The Learning Experience in Franklin Lakes teaches their preschoolers about the importance of giving back and what it means to be a good citizen in our local and global community.
This month, on February 10th, The Learning Experience Preschool in Franklin Lakes hosted their annual BeCause our Hearts Beat Art Auction, one of their favorite philanthropic events of the year. Tying in Valentine's Day and American Heart Month, their preschoolers created heart art and sold it to benefit Make-A-Wish, a charity dedicated to the wishes of children with life-threatening medical conditions, to enrich their experience with hope, strength and joy.
Parents visited the auction to purchase their child's art and made a donation. The Children were so excited to show off their masterpieces and they were very happy to be helping sick children with all the donations. The preschool students raised over $2,500 for Make-A-Wish this year.
TLE Franklin Lakes also partnered with local businesses and raise an additional $1,600 in raffle prizes.
Local partners include: The Soccer Post, Stop & Shop, White Maple Café, Moxie Ridgewood, Uncle Louie's Pizza, Parian & Sons Jewelry, Kayal Orthopedic Center, Environmental Mechanical Tech, Franklin Lakes Pizza, Hand And Stone Massage, Lisa's Mediterranean Cuisine.
All year long TLE works on philanthropy lessons with the help of Grace The Greyhound and Charity Chihuahua, the lovable and hug-gable dog mascots for philanthropy. The philanthropy curriculum at The Learning Experience, helps teach children that it is not how big or small you are, it is the size of your heart that matters. Through animation, classroom activities and participatory songs, Grace and Charity introduce children to topics like the value of helping others, volunteering and donating.
Owner Dilek Yesilyurt says of the event, "It is so important to me to teach our young children both creativity and compassion for others. I feel a huge sense of happiness and pride knowing that our students, as young as 3, can understand why we must help others and that we are making a positive impact for sick children. We focus so much of early education on academics, which are hugely important, but we must not forget to feed these young children's character development as well. This event is one of my favorite things that we do all year and I love seeing how proud our students are of their artwork and how happy they are they are helping other children."
Nationwide Preschoolers at The Learning Experience Centers raise awareness for children-focused charities nationwide each year, including more than $500,000 for Make-A-Wish Foundation last year.
About The Learning Experience
The Learning Experience® is one of the nation's fastest growing academies of early education for children ages six weeks to five years old. With a greater national emphasis on educational development during the most crucial years of a child's growth, The Learning Experience places a prominent focus on programs that advance scholastic preparation. The Learning Experience prepares children academically and socially via innovative scholastic and enrichment programs such as the L.E.A.P.® curriculum, a cutting-edge proprietary approach to learning which has more than 95 percent of its children graduating preschool reading at a Kindergarten level or higher. To complement the academic curriculum, The Learning Experience utilizes various enrichment programs crucial to advancing learning and overall balance, such as philanthropy, Yippee 4 Yoga™, Music 4 Me®, Movin' N Groovin'®, manners and etiquette, and foreign language.
https://thelearningexperience.com/our-centers/nj/franklin-lakes/franklin-lakes
www.facebook.com/TheLearningExperienceFranklinLakes/