Badger Truck Equipment Expands, Restructures Paint Department
Company adds two new painters, improves commercial paint booth and partners with new paint vendor.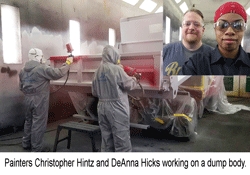 West Allis, WI, February 23, 2017 --(
PR.com
)-- Badger Truck Equipment (BTE) has announced the restructuring of its commercial paint department, resulting in the hiring of new employees, as well as a refurbished space and a new paint vendor.
As part of BTE's process improvement plan for 2017, the company has hired painters Christopher Hintz and DeAnna Hicks. The painting team, which most recently worked at Terex Utilities in Waukesha, WI, have a combined 18 years of professional commercial vehicle painting experience. BTE continued its expansion by refurbishing the paint booth, painting and resurfacing the walls and adding in new lighting.
"We specialize in commercial truck painting, fleet maintenance, body work and refurbishing," said Nancy Schlagenhauf, BTE General Manager. "To move to the next level, we knew we needed to hire a team with the right experience to enable us to provide our customers with what they need."
Jeremy Pfister, BTE's Service Manager, added that BTE has also partnered with a new paint vendor, Auto Industrial Color (AIC), and is working with the Sikkens paint line which provides better coverage, gloss and longer color retention.
"With the new equipment we've invested in, such as our color camera, we can provide accurate digital color matching in-house for touch-ups or matching existing company colors," Pfister noted. "Our new painting team then completes the job. With their skill set, the process is completed efficiently and is done right the first time."
Working with the new paint team and the restructure of the entire paint department, BTE stands ready to assist its customers with all of their painting needs, Schlagenhauf added.
"At BTE, we never consider a project too small or too large. We've done jobs ranging from repainting a customer's ladder rack to match his new truck, to painting quad axle dumps and commercial van bodies for our larger customers," Shawn Centell, Sales Manager also commented. "Our goal is to provide complete service to our customers and that can take many different directions. We'll even work directly with a customer's insurance company to ensure a timely repair! By re-focusing our efforts on rebuilding our physical paint department and the team that runs it, we are far better equipped to provide the service our customers have come to rely on."
About Badger Truck Equipment
Badger Truck Equipment (BTE), established in 2005, is a family-owned commercial truck equipment provider located in West Allis, Wisconsin. Badger Truck Equipment provides a variety of sales, installation, service, parts and paint options for light, medium, and heavy-duty commercial truck and retail customers. With the highest integrity, the BTE team has developed the knowledge to understand the complexities of truck equipment and the importance of building the right solution for its customer's specific application. The company is a proud recipient of all 7 Good Jobs Culture Badgers. To learn more, visit badgertruckequipment.com, or call 414-316-2791.
Contact
Badger Truck Equipment
Christine Duncan
262-707-9239
badgertruckequipment.com

Contact