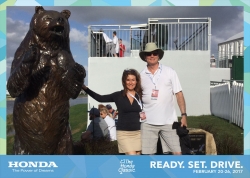 Palm Beach Gardens, FL, March 02, 2017 --(
PR.com
)-- The Chauncey F. Lufkin III Foundation was happy to volunteer for Quantum House at the Honda Classic on Saturday February, 25, 2017.
The annual Honda Classic, now 11 years into its tenure at PGA National Resort & Spa, is a well-established fixture in the Palm Beach County community. Won on Sunday by fan favorite Rickie Fowler, the event drew some 203,815 spectators over seven days between the Monday Pro-Am and Sunday's final round. Though top draws Tiger Woods and Rory McIlroy were sidelined by injuries, the perfect weather over four days accounted for the slight increase in attendance over last year and Fowler is now back into the Top 10 in the Official World Golf Ranking at No. 9.
Quantum House of Palm Beach County provides lodging, meals, care and compassion to families facing a medical crisis. A percentage of the proceeds from the concessions tents will go directly to the organization to help support the many families from all around the world that stay at their facilities in West Palm Beach.
The Foundation's principal, Chauncey Lufkin and his fiancé, Sandra Familet, pictured here, stopped by the festivities on Sunday, to offer a helping hand.
Organizing the many Quantum House volunteers was Megan Thompson, Manager of Family Programs and Operations for Quantum House. "Our big thanks to Megan for all of her hard work this weekend and throughout the year. She and the rest of the Quantum House staff and the families they support, are always on our minds and in our hearts. It is our great privilege to contribute in any way we can to their great efforts in our community," said Chauncey Lufkin, Founder of The Chauncey F. Lufkin III Foundation.
Also, representing the Foundation, and volunteering on Saturday afternoon, were Foundation Director, Cara Familet and her friend Kathryn Ross, Founder of Kross Strategies, a sales and marketing advisory firm based in Lancaster, PA. Both volunteered at the 8th Green Grill.
"Often organizations need physical support beyond financial donations to accomplish their fundraising goals. Quantum House is a worthy cause that made it a pleasure to work with all of the volunteers to make the grill's operations a fundraising success." said Kathryn Ross, Founder of Kross Strategies.
Other highlights included an unprecedented two holes in one at the 15th hole. For the first 10 years, the Honda Classic was staged at PGA National, not a single hole-in-one was recorded at the difficult 15th hole.
Jhonattan Vegas accomplished the feat Sunday, as did Scott Stallings on Thursday. Both players were rewarded with a Honda CRV.
About Quantum House
Quantum House is a caring and supportive home that lessens the burden for families whose children are receiving treatment in Palm Beach County for a serious medical condition. Fueled by the vision, energy and resources of Intracoastal Health Systems, Junior League of the Palm Beaches and Quantum Foundation, Quantum House opened its doors in May 2001 to families going through a most difficult time. The House continues to be where hope has a home® for more than 1,000 family members every year. The House is the only hospital hospitality house serving children and their families this way between Fort Lauderdale and Orlando, Florida. Over the years, the House has proudly served families from every state and nearly two dozen countries around the world.
About the Chauncey F. Lufkin III Foundation
The Chauncey F. Lufkin III Foundation is a charitable organization founded in 2006 dedicated to improving the quality of life for individuals around the world. Our foundation's focus is on fighting poverty through better education and by finding faster cures for the diseases that affect loved ones. Our strategy is to comb the globe for private independent foundations effectively working on these issues, supporting them with financial injections that make a difference. To date the Foundation has lent their support to numerous organizations including The Robin Hood Foundation, The Milken Institute, The Boys and Girls Club of Palm Beach County, Quantum House of Palm Beach County, St. Jude Children's Research Hospital, The Aspen Institute, and BizWorld. Mr. Lufkin has also established The Chauncey Lufkin Endowment for Academic Excellence at Southern Methodist University and is a major contributor to St. Lawrence University. www.cfl3.org