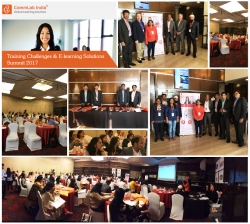 Mumbai, India, March 07, 2017 --(
PR.com
)-- CommLab India, a global leader offering technology-enabled learning solutions to organizations across the world, successfully hosted the first edition of its Training Challenges and E-learning Solutions Summit 2017, in Mumbai, on the 7th of March.
RK Prasad, the CEO and Co-Founder, CommLab India, set the tone for the event by inviting the audience to share their experiences with e-learning implementation and the challenges they face.
Common challenges shared included "How do we justify the cost of training infrastructure and ensure ROI?", "How do we sell technology training solutions to our top management?", and "How can we align business challenges with learning outcomes?"
"We always thought introducing e-learning in our organization would relegate classroom training to the background. The insightful session by Dr. Howard Lewis however, put our fears to rest; it gave us a practical approach to complement classroom training with e-learning," said a delegate representing a pharma company.
"It is very difficult to bring our sales reps to classroom trainings. They might not prefer lengthy online courses too. How can we train them?" "If we adopt e-learning, can we convert those courses to fit mobiles by resizing them?" These questions and more were addressed by John Towsley, Chief Learning Architect, Canada. In a lively, interactive session, John helped delegates gauge their organizational readiness for mobile learning implementation.
A delegate from the banking sector said, "We were apprehensive of trying out e-learning, as we thought it involves huge investments. After the session on e-learning costs, I now have a clear idea of what it actually entails and I'm confident of going back and educating my top management."
The Q&A capsule after each session paved the way for further discourse and in-depth analyses. The summit also allowed participants to network with peers and interact with e-learning advocates.
"It was a great platform to share our training challenges. Getting to know the easy, cost-effective, highly scalable solutions offered by e-learning was very rewarding. The summit expanded my horizons on e-learning," said a participant from the education sector.
Dr. Ayesha Habeeb Omer, COO and Co-Founder, CommLab India said, "We are honored by the overwhelming response to the event in Mumbai. We hope to carry forward this momentum to the other cities and will be back to Mumbai next year."
Attended by over 70 learning and training professionals, the event was a resounding success. Representatives from diverse sectors such as manufacturing, pharma, and hospitality to retail, insurance, banking, and education joined the summit, reinforcing the importance of e-learning across domains.
About CommLab India
CommLab India LLP is a leading learning solutions company with expertise in design and development of eLearning courses. Its learning solutions include eLearning course development, mLearning solutions, conversion of legacy courses into the mobile compatible HTML5 format, translation of online courses and hosting and managing training materials on LMS.
CommLab has worked with organizations in various industries such as finance, insurance, manufacturing and healthcare. Based in India, it is a preferred vendor to several Fortune 500 companies, such as Alcoa, Mettler-Toledo and Pepco Holding Inc. and has an ongoing relationship with organizations such as SAI Global and Unilever.