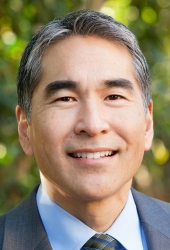 Atlanta, GA, March 20, 2017 --(
PR.com
)-- Atlanta City Councilmember Alex Wan, who is seeking the second-highest elected position in Atlanta government, Atlanta City Council President, on Thursday released his City Council District 6 non-salary expenses from January 2010 (when he officially took office) through a report run in February. That data can be found online
here
.
"Constituents and colleagues know me to be open and transparent, and I am proud of that reputation," Wan says. "In that spirit – and in light of recent news at City Hall – I share with you this information. I will also be publishing my monthly expenditures online when the new, updated Atlanta City Council website is launched in the coming weeks."
The data released shows:
• Nearly 60% of Wan's District 6 Council budget thus far was invested directly into neighborhood improvement activities (ex: Piedmont Park expansion and infrastructure, Atlanta Police Foundation for security cameras, the Center for Hard to Recycle Materials (CHaRM), Atlanta Bicycle Coalition's Streets Alive events and neighborhood master planning initiatives and events);
• The other major expenditures were in training and conferences (ex: Georgia Municipal Association conference, Kennedy School of Government training at Harvard), office expenses (from paper to nametags to calendars), communication (ex: City Council dedicated mobile phone, Council website and monthly Council newsletter);
• and, at 3.6% "Miscellaneous," for various expense reimbursements to Wan.
"I'm most proud of district neighborhood projects, because these support core projects for public safety, schools, parks, seniors and more," he says. "In fact, when the remaining District 6 carryforward (unspent) balance is completely expended by the end of my term, which it is required to be, the final accounting will show that roughly 90% of the District 6 budget during my time on Council was spent improving our district."
Wan adds that, "Our decisions and work on behalf of citizens should always be transparent, data-driven, operationally sound and, at the end of the day, should benefit the people we serve and the city we love."
The Atlanta City Council President is elected city wide, presiding at all Council meetings and voting in the event of a tie. The president of the Council also appoints chairs and members of the various committees. Council President also serves as vice mayor, acting for the mayor in certain instances. The Atlanta City Council President is elected for a four-year term, with the election to be held in November 2017, taking office in January 2018. The current City Council President is running for mayor.
"With your help, I stand ready to further my commitment to our great city, and I thought sharing 'the books' was a good way to begin our next chapter together," Wan says. "In the meantime, I am happy to answer any questions you have about this information."
For more information about Wan and his campaign: www.AlexWanForAtlanta.com.