SEM Worldwide Accepting New San Diego Search Engine Optimization Clients
SEM Worldwide, a search engine optimization firm known for its work in the real estate, lawyer and mortgage industries is broadening its customer base and is now accepting new customers in a broad spectrum of industries.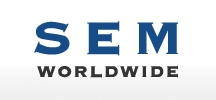 San Diego, CA, February 06, 2008 --(
PR.com
)-- SEM Worldwide is broadening its customer base and is now accepting new customers for
San Diego search engine optimization
services. SEM Worldwide operates differently than your typical SEO firm. According to Levi Barker, VP of Sales for SEM Worldwide, "There are some serious differences between us and the other major
San Diego SEO
firms. We provide services that are superior to our overpriced, over-hyped competition for a fraction of the price. Additionally, we only accept one client per area of expertise in each metropolitan area. Oddly enough this is not common in the search engine optimization marketplace. What this means for you, the client, is that you do not have to worry about SEM Worldwide performing the same services for both you and for your competition. There is never a conflict of interest when it comes to our services. It makes no sense to partner with an SEO firm who is working on your competition's website."
About SEM Worldwide
SEM Worldwide is a full service search engine marketing agency. Whether you are looking for SEO,
SEO reseller
services or need some help converting your paid search internet prospects into customers, they are a one stop shop for your business. Many still consider SEO/SEM to be a black-hat art due to the Internet being full of contradictory information on how SEO works. When working with SEM Worldwide, they will be very clear about the services they are performing and you will never be left in the dark. They will demonstrate that organic search engine optimization is one the most cost-effective marketing channels that a company can utilize. As more and more people turn to the internet for their information, SEO is not only a luxury, but now mandatory for companies that plan on being successful in today's cut throat online market place.
SEM Worldwide has taken the necessary steps to create a higher standard of service than is the norm in the Search engine marketing world. SEM Worldwide has a record of success in some of the most difficult markets on the internet such as; real estate, mortgage, financial services, insurance, plastic surgeons, law/ legal, and retail. Their clients have been with them for years and they have yet to disappoint a customer. The San Diego SEO market is not getting any easier as more and more people vie for the first page of search engine results. Real estate is scarce online, with thousands of companies competing for the same precious few top positions. Top search engine rankings are only half the story and they don't stop there. They have a holistic view when working with you and incorporate your offline image with your interactive image. Offline and online marketing must now work together for you in a unified fashion.
SEM Worldwide can get you to the top with staying power that will benefit you for years to come.
###
Contact
SEM Worldwide
Christopher Powell
(858) 883-7007
http://www.semworldwide.com

Contact