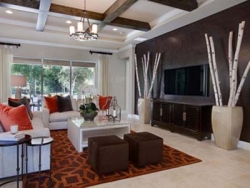 DeLand, FL, March 27, 2017 --(
PR.com
)--
Masterpiece Design Group
, an award-winning Winter Park design firm that has provided professional services for many of the country's major homebuilders, has completed the design work on five new model homes at Victoria Park in DeLand.
Designed by Masterpiece's acclaimed Model Merchandising Division for developer and homebuilder Kolter Homes, the new model homes were unveiled this month at the grand opening of Kolter's model home center at Victoria Hills – one of four distinct residential enclaves comprising the city's largest residential community.
Kolter, one of the Southeast's largest homebuilders with residential communities in Florida, Georgia and the Carolinas, is the Master developer and primary builder in the sprawling 1,859-acre golf course community at the nexus of Orange Camp Road and Martin Luther King Beltway at the fringe of the city's historic district.
Masterpiece, which has collected better than 50 industry awards over the years for its design and model merchandising endeavors, will be introducing a wide variety of design styles ranging from modern to organic to transitional all aimed at impacting Kolter's target buyer market of professionals, families and active adults, says Masterpiece President and COO Christy Scanlon.
The new models unveiled at Victoria Hills include the Aster, Beech, Ivy, Sienna and Spruce and preliminary sales results leading up to the grand opening "have been record breaking," according to Scanlon.
Living areas in Victoria Hills' new line range from approximately 1,849 to 3,392 square feet, with prices starting from the low $200s and ranging to $500,000.
MDG's Model Merchandising Division is responsible for the design of builder model home centers, sales offices and community clubhouse/amenity centers and has been a major staple and specialty in MDG's spectrum of professional design services because of the significant role it has proven to play in driving home sales.
"Our primary objective with our Model Merchandising approach is to not just make the homes look appealing and captivating but to have a profound impact on sales by effectively reaching our clients' buyer demographics," says Scanlon.
The Victoria Hills model home center represents the first major design project in Volusia County for the 19-year-old design firm and the latest effort between Masterpiece and Kolter Homes. Last year, several of the six model homes Masterpiece designed for Kolter's Palm Beach Gardens' community of Alton captured prestigious Grand Aurora awards at the annual Southeast Builder's Conference in Orlando for design excellence.
"We selected Masterpiece to be a part of our team because of its award-winning history and expertise in marketing and merchandising new home communities," says Kolter Homes Vice President Mark Bines.
Masterpiece commenced operations in 1998 and over the years has evolved into one of Florida's premier full-service design companies. It serves a diverse clientele in most of the state's major metro markets, including Orlando, Tampa, Sarasota-Bradenton, Jacksonville and South Florida, as well as key markets in the Southeast and Midwest. It also provides individual services to clients throughout the United States and parts of Europe and South America.
The company has provided professional design and model merchandising services for a long line of industry leaders in addition to Kolter Homes. That list includes LifeStyle Homes, GL Homes, Dream Finders Homes, Greenergy Homes, Silliman Homes, Royal Oaks Homes, AV Homes, Lennar Homes, DR Horton Homes, M/I Homes, Taylor Morrison and Chicago-based Crown Development Group.