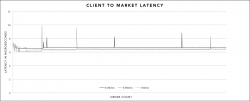 Sunnyvale, CA, March 28, 2017 --(
PR.com
)-- Neeve Research, the leader in building next-generation low latency high throughput transactional applications, announced today it has achieved breakthrough performance and reliability with its in-memory platform. Neeve Research's X Platform™ delivered one million "Client to Market" transactions per second (TPS) at < 10 microsecond "Client to Market" latency, with no performance change going from zero to peak traffic and with zero data loss guaranteed. The X Platform™ is unlike traditional transactional low latency platforms, not only from a performance perspective, but also in the way in which it transparently handles all the middleware plumbing that developers would otherwise spend time developing and testing. Developers can now dedicate that time to implementing the business logic. With its minimal hardware footprint it goes even further to reduce massive investments in capital equipment.
The X Platform™ is for high performance, mission critical, transactional enterprise applications. Examples of such applications include financial services trading engines, next generation e-commerce engines, massive multi-player gaming engines, and ad bidding engines. These applications are characterized by being transactionally driven by their environment, maintain mission critical enterprise state, and must be highly performant, available, and scalable. The X Platform™ makes programming enterprise applications extremely simple by storing application state complexity in local memory and allowing application developers to treat the memory as durable and the messaging backbone as fire-n-forget. It empowers rapid application development without thinking about (or compromising on) the traditional non-functional pillars of an application: persistence, connectivity, high availability, and scalability all of which typically involve deep infrastructure expertise. Timely and cost effective delivery of Front and Middle tier applications is heavily impacted when developers spend cycles designing and coding such non-functional aspects of the application. With the revolutionary technology underpinning the X Platform™, Neeve Research has completely debunked common myths that distributed computing is difficult and in-memory computing is incapable of being fault tolerant.
Girish Mutreja, CEO of Neeve Research, states: "Initial customer deployments have all shown remarkable improvements in development timeframes, performance gains, and profitability. One customer reduced their hardware footprint by over 50% and experienced revenue growth from $250K to $10M almost immediately."
Neeve Research's recent demo with record breaking performance on the "Client to Market" application is relevant for many use cases that require:
- Driving greater capacity to respond to business and environment changes (e.g. Black Friday, Runs in the market, Overwhelming demand for an item) in application traffic.
- Handling guaranteed processing for every transaction like a travel booking or bidding application.
- Providing high availability at the process, machine, and data center levels because it is mission critical to the business.
- Rapidly developing and managing modern container-based micro services applications at scale.
- No Garbage collection pauses, performance remains consistent regardless of the volume.
- Leveraging reference data with streaming transactions for things like personalized pricing, IoT message processing, and real-time inventory availability.
Colin MacNaughton, Neeve Research's Head of Engineering said: "The benchmark validates what we hear from our customers every day. The X Platform™ not only enables you to build very fast, reliable, and scalable enterprise applications, but more importantly, enables you to build and maintain them easily and in an agile manner. The move towards in memory computing is inevitable as organizations struggle to meet ever increasing demands on performance. We've been seeing this shift unfold mostly through adoption of in memory data grids up until now. The X Platform™ takes this to a whole new level by tackling not just the data side of the equation, but also the messaging and processing side of applications. This is where the X Platform™ is totally unique - our holistic, atomic, and 360° approach to management of state, messaging, and business logic allows us to achieve extraordinary levels of performance, reliability, and productivity that are impossible to achieve in a piecemeal fashion."
The X Platform™ delivers the lowest latency application with the fastest development. The X Platform™ makes it simple to build transactional or streaming based applications; the developer does not need to think about:
- Mapping state to a persistence tier (no O-R mapping, no serialization frameworks, or distributed caching headaches). They just use plain old java objects (POJOs) and can treat them as if changes are durable.
- Mapping into the messaging tier. Messages are also just plain old java objects.
- Threading or concurrency.
Developers simply write business logic that doesn't have any infrastructure bleed. Business handlers will respond to a POJO message, update state by manipulating POJOs, and sending outbound messages by creating POJOs. The X Platform™ lets developers spin them up with no compromise to performance, reliability, and availability.
For more details: please email contact@neeveresearch.com
or visit http://www.neeveresearch.com
About Neeve Research
Neeve Research was founded on the belief that memory oriented computing is a revolution that is going to change enterprise computing. Sitting in the eye of the perfect storm of technology, business, and social trends, Neeve Research offers the X Platform™, an industry first, memory-oriented, multi-agent transaction processing application platform for extreme I/O intensive, message driven applications. Built from the ground up, the X Platform™ catalyzes enterprise agility by allowing developers to write plumbing-free business logic on a platform that seamlessly injects fault tolerance with zero data loss and near linear horizontal scalability while exhibiting extreme performance characteristics. The X Platform™ pioneers the use of memory-oriented computing, advanced messaging, and decoupled enterprise data management to enable no-compromise computing from a performance, scalability, agility, and reliability standpoint. The X Platform™ was incubated and field hardened before being launched to the general public in late 2016 and is already running mission critical applications at Fortune 300 securities trading, resort, and gaming corporations.
For additional information visit: http://www.neeveresearch.com.