New Day Underwriting Managers Unveils 2017 Market Update
Annual Industry Recap Highlights Latest Environmental & Construction-Related Professional Liability Insurance Trends, Challenges & Predictions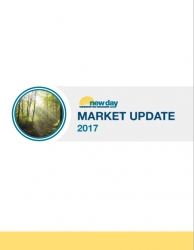 Hamilton, NJ, March 29, 2017 --(
PR.com
)-- New Day Underwriting Managers LLC, a leading specialty intermediary of environmental and construction-related professional liability insurance, today announced the results of the 2017 Market Update highlighting the trends and challenges currently confronting the environmental and construction-related professional liability industry. The analysis navigates the complex marketplace with insights and predictions designed to help insurance professionals and their customers minimize risk and overcome construction challenges.
The report offers a comprehensive overview of the news and updates surrounding Architects & Engineers (A&E) Professional Liability, Contractor's Professional Liability (CPrL), Owners Protective Professional (OPP), Pollution Legal Liability (PLL), Contractor's Pollution Liability (CPL), General Liability/Pollution Legal Liability (CGL/PLL) and General Liability/Contractor's Pollution Liability/Professional Liability (GL/CPL/PL) coverage.
"The 2017 Market Update shares the firm's collective knowledge with agents and brokers looking to make the best possible decisions in these specialty markets," says Jefferey S. Lejfer, CEO at New Day Underwriting Managers. "It is designed to carefully dissect each individual insurance product with the information needed to make informed buying decisions."
"The industry is constantly changing," adds Jeff Slivka, New Day's president. "Our mission is to help our clients better understand the ever-evolving environmental and construction-related professional liability industry. This includes the market conditions, policy enhancements and introductions that are best-suited for managing risks, no matter the project parameters or business model."
The 2017 Market Update provides detailed analyses of each insurance product discussed. Highlighted are updates on marketplace and coverage expansions; rates and pricing; capacities; buying motivators; claims; underwriting status; and short- and long-term industry predictions.
"Our team's combined expertise went into developing the 2017 Market Update and we are always available to answer questions and offer guidance," explains John Heft, senior vice president and director of the real estate practice at New Day. "We pride ourselves on providing market insight and the latest information available in the marketplace."
The report underscores the concerns of carriers, which are increasingly alarmed about the rising claims associated with the way many contractors have altered their services to generate revenue. "Some firms are now chasing projects that do not match their expertise or bidding for jobs that are beyond their skills, resulting in more risk and even more demanding contract terms." As a result, the consequences could lead to "the hardening of the market against certain disciplines or project profiles" or even the exit of some carriers from the marketplace altogether. Other sample insights underscore the:
--Contractual obligations that are driving the purchase of CPrL policies for both practice and project programs
--Declining rates of OPP policies, which are based on the continued entry of new carriers and the growing number of owners and developers seeking supplemental protection against catastrophic design errors
--Significant capacity in the PLL space despite the exit of AIG in 2016
--Restricted capacity from excess carriers in the environmental casualty space due to an increase in claim activity and rapidly broadening scope of services
To view the entire 2017 Market Update from New Day Underwriting Managers please visit
http://newdayunderwriting.com/site/wp-content/uploads/2017/03/2017_MarketUpdate.pdf
or feel free to reach the company at www.newdayunderwriting.com or 609-298-3516 for more details.
About New Day Underwriting Managers LLC
New Day Underwriting Managers LLC is a specialty resource for agents and brokers, assisting them and their clients find appropriate, high-quality environmental and construction-related professional liability insurance coverages. The company offers agents and brokers single-point access to an ample portfolio of products and services provided by the nation's largest environmental and professional liability insurance providers.
Contact
New Day Underwriting Managers
William Chelak
732-541-2971
www.newdayunderwriting.com

Contact