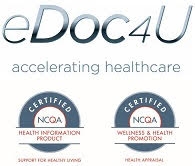 Nashville, TN, March 28, 2017 --(
PR.com
)-- eDoc4U, a leading provider of population health management and provider solutions, announced today it has been certified for a third time by the National Committee for Quality Assurance (NCQA). In line with healthcare's changing landscape, the new certifications include required steps to monitor customer satisfaction and continually improve products and services. eDoc4U applied for and passed at 100% of all required items for the following certifications:
Health Information Products (HIP) 3 – Support for Healthy Living
Wellness and Health Promotion (WHP) 5 – Health Appraisal (including WHP 3 – Privacy/Security and WHP 13 – Measuring Effectiveness)
NCQA is a private, non-profit organization dedicated to improving health care quality. NCQA accredits and certifies a wide range of health care organizations, and recognizes clinicians and practices in key areas of performance. NCQA is committed to providing health care quality information for consumers, purchasers, health care providers and researchers.
NCQA's Certifications are based on rigorous evaluations conducted by a team of health care professionals. A national oversight committee of physicians analyzes the team's findings, and awards or denies Certification based on compliance with NCQA standards. The standards are purposely set high to encourage wellness and health promotion organizations to continuously enhance their quality. No comparable evaluation exists for wellness and health promotion programs.
"We're very privileged to be one of only very few organizations that qualify for NCQA's Certification in HIP3 and WHP5," said Ray Capp, CEO of eDoc4U. "Our clients are credited automatically as complying with NCQA standards for member connections (MEM1 – Health Risk Appraisals) and for care management and improving wellness (MEM8 – Support for Healthy Living). We and our clients can continue anticipating the impact of eDoc4U's high quality standards, continual quality assessment, and further improvements."
"I congratulate eDoc4U for distinguishing itself by earning Wellness & Health Promotion Certification. This achievement signals to employers that eDoc4U is organized and ready to improve workforce health," explained Margaret E. O'Kane, President of NCQA. "Savvy employers know that the health and wellbeing of their workforce is a critical asset." NCQA's James LaFlamme, Vice President, Product Delivery, said "Earning NCQA's HIP Certification demonstrates that an organization has expertise in gathering and disseminating health care information for health plan members."
About eDoc4U
eDoc4U (http://www.edoc4u.com) is a leading provider of NCQA certified web-based population health management and provider solutions to better engage patients in preventive and chronic healthcare. Since 2002, eDoc4U has provided innovative healthcare solutions to millions of individuals through benefit plans, health plans, health providers, and pharmacy benefit managers. The eDoc4U team includes Board-certified internal medicine physicians who believe that research-proven standards of preventive medicine offer the best way to improve the health of individual patients, employer groups and communities.
Press Contact: Anna Kennedy (615) 279-3428