Taking Male Enhancement Upscale: Powerful IMPRESS!® Dietary Supplement for Men Selects New York-Based Bactolac Pharmaceutical for Pharmaceutical-Grade Manufacturing
MaxLabs US reveals Bactolac Pharmaceutical (Hauppauge, NY) to provide Manufacturing and related technical services for the highly-anticipated "IMPRESS!®" brand supplement for men – a new crossover product for the male enhancement category - A high-potency dietary supplement that uniquely supports men's sexual, mental and overall physical performance via use of highly-standardized bioactive ingredients.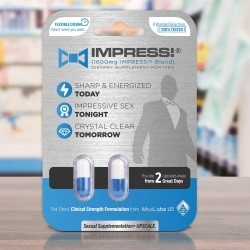 Washington, MI, March 29, 2017 --(
PR.com
)-- Charles Kraft, R.N., MaxLabs US V.P. of Functional Health relates:
The guiding statement for development of
IMPRESS!® Dietary Supplement
reads - "No Compromises! Our Customers Deserve the Best!" Men have had many choices of "male enhancement pills," but most of the "enhancement" has been entirely "sexual" in nature. Important, yes, but existing choices have ignored other crucial factors that impact sexual performance including exhaustion, fatigue and anxiety. IMPRESS!® supports all of these needs and can also curtail men's reliance on products like energy drinks.
IMPRESS!® delivers a U.S. patent-pending formulation composed of premium, name brand ingredients backed by stringent testing protocols. Compare this to findings of a recent
National Study
that revealed many popular sexual enhancement pills have serious issues including undeclared chemicals, fictitious labeling, erroneous country of origin - all related to poor manufacturing quality. IMPRESS!® brings much-needed discipline to this product category and delivers male consumers a product immediately recognized as a superior value from every vantage point.
In terms of ingredient value, evidence-backed ingredient selection and use of standardized extracts, IMPRESS!® is the strongest male enhancement. A comprehensive competitive analysis made it crystal clear IMPRESS!® will be recognized as the most unique and exotic supplement to debut in the last ten years. A contract manufacturer who simply "meets FDA guidelines" wasn't going to be satisfactory for a project that's breaking new ground. We had to secure the absolute best and find a collaborative partner possessing the expertise and technical resources that's also aligned to our pillars of "Innovation, Quality and Value." MaxLabs US found precisely that with Bactolac Pharmaceutical in New York.
MaxLabs US' competitive request for proposal (RFP) process evaluated dozens of manufacturers to ensure IMPRESS!® would be produced in accordance with their exacting specifications. Bactolac was a leading choice from the beginning based on their scale, experience, certifications and reputation for quality. Ultimately, they were one of just three U.S. manufacturers who survived our selection process.
The real differentiator for Bactolac is their eagerness to embrace our extensive list of demands and expertly translate them into a seamless manufacturing plan. Sophisticated equipment aside, MaxLabs knows committed people make the real difference. Dr. Reddy (Bactolac CEO) has assembled an incredible team- experienced PhD-level scientists scrutinize every process and that's precisely the type of added-value that cemented MaxLabs' choice. IMPRESS!® for Men is truly a "no compromises" supplement and MaxLabs US selection of pharmaceutical-grade manufacturing by Bactolac is another clear example of their commitment to taking male enhancement upscale.
Bactolac Pharmaceutical CEO Dr. Pailla M. Reddy states:
Bactolac Pharmaceutical's dedication to complete customer satisfaction has made us one of the most trusted nutritional supplement companies for private label and contract manufacturing. All products go through comprehensive testing to ensure safety, accuracy, consistency, and strict label adherence. In review of our growing relationship with MaxLabs US, we recognize our shared core values and dedication to customers as the driving force propelling MaxLabs to the top of their category.
Bactolac Pharmaceutical is proud to partner with this dedicated innovator to produce such a high-profile brand as IMPRESS!®. A strong synergy has developed with MaxLabs US, that will continue to grow and elevate the quality and value that we deliver our customers. The opportunity to work with a brand so intensely focused on offering only the best, and highest quality products to their customers is an outstanding honor. Here at Bactolac Pharmaceutical Inc. we can agree with MaxLabs project statement, "No Compromises! Our Customers Deserve the Best!"
About MaxLabs US
MaxLabs US designs and markets premium quality nutraceutical products for human use. With a business model built on Innovation, Quality & Value, the company is led by a core team possessing over 75 years of collective experience in business leadership, healthcare and medical devices. The new company is focused on quickly establishing dominance over direct competitors and expanding its portfolio based on market needs. IMPRESS!® for Men is their flagship product for the male enhancement category. Quality assurance, testing, manufacturing and packaging of MaxLabs US products are proudly U.S.-based. MaxLabs US is headquartered in Washington, MI USA.
About Bactolac Pharmaceuticals
Bactolac Pharmaceutical is a nutritional supplement manufacturer led by a team of experienced scientists and pharmacists. Founded in New York in 1995, the company's goal has always been to provide high-quality vitamins and supplements at competitive prices to help customers become successful in the health and wellness supplementation market. A full-service health supplement manufacturer and vitamin supplier, we offer everything from product manufacturing to product testing, packaging, labeling, and distribution. These processes are all carried out in our high-tech, 350,000 sq. ft. facility which houses innovative equipment and state of the art laboratories. This facility is cGMP certified and meets all FDA requirements for nutritional supplement manufacturing. As a leading nutritional supplement manufacturer, Bactolac offers customers a wide variety of nutraceutical capsules, sublinguals, soft gels, liquids, chewables, tablets, and powders for private label manufacturing.
These statements have not been evaluated by the U.S. Food and Drug Administration (FDA). These products are not intended to diagnose, cure, treat or prevent any disease.
Contacts
MaxLabs US
Charles Kraft, R.N.
844.MAX.LABS Ext. 4
CK@MaxLabsUS.com
Bactolac Pharmaceutical
Gregory Wenskus
1.800.585.2546
Contact
MaxLabs US
Charles Kraft, R.N.
844.629.5227 Ext. 4
IMPRESS1600.com

Contact