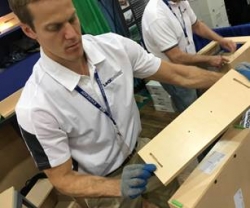 San Jose, CA, March 31, 2017 --(
PR.com
)-- Lockdowel, the innovators in fast assembly fasteners, is hosting a free Cabinet and Furniture Assembly Workshop and Open House May 1 and 2 at their Fremont, CA headquarters. Come learn how cabinet and furniture makers are reducing their assembly time by 80%, and improving shop floor productivity by adopting the Lockdowel fastener system.
Attendees are invited to compete for $500 cash prize to the Fastest Lockdowel Cabinet Assembler!
Coming to the Cabinet Makers Association event in San Jose May 3 and 4?
http://www.cabinetmakers.org/may-2017-northern-california-event.html. All CMA Expo attendees and media are invited to come a day or two early to Lockdowel (just 20 minutes north) to see how simple cabinet and furniture assembly can be.
Both repeated days of the free Lockdowel Workshop and Open House will be divided into three-hour sessions where participants will have hands-on experience designing and assembling cabinets utilizing the latest design and manufacturing tools. Lockdowel will be demonstrating their full line of fast assembly fasteners, drawer slides and hinges.
Pre-registered attendees will receive a complimentary lunch – register now:
https://www.eventbrite.com/e/cabinet-makers-lockdowel-workshop-and-open-house-may-1-2-tickets-33231772125
Can't make the event? Go to www.lockdowel.com to order your Lockdowel Eclips Evaluation kit to see for yourself that the Lockdowel Eclips fastener system is the faster, stronger and easier way to speed up cabinet and furniture production.
About Lockdowel
Lockdowel provides fasteners, drawer slides and hinges for fast and easy installation of cabinets, furniture and architectural millwork. Patent pending. Lockdowel 48834 Kato Road #110A Fremont, CA 94538, (650) 325-8732 www.lockdowel.com