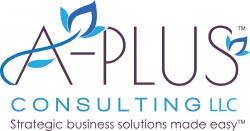 Newark, NJ, April 02, 2017 --(
PR.com
)-- A-Plus-Consulting LLC thrive on solving complex problems with actionable solutions for a sustainable future. They are an InnovateHER 2015 New Jersey finalist. InnovateHER is a Small Business Administration (SBA) competition aimed at helping women and families.
A-Plus-Consulting LLC, a qualified Historically Underutilized Business Zone (HUBZone) and Woman Owned Small business, offers full service Human Resources Consulting services for private and government clients in NJ, NY, AL, MD and CA (dba A-Plus Strategy LLC). Federal contractors are required to hire people with disabilities and our vision focuses on autism where there is a high unmet need in New Jersey with the highest prevalence of autism.
African-American children are often diagnosed at a very late stage missing potential years of treatment and education. The Newark, NJ community is home to many minority autistic students and we are pleased to announce a multidisciplinary feasibility vocational curriculum for select minority high school students on the spectrum.
Radio host Darrell Gunter from Gunter Media Group, Inc has a segment "Leadership with Darrell Gunter" on the award-winning WSOU 89.5 FM and he interviewed Newark, NJ-based American History High School Principal Mr. Bryan Olkowski, Special Needs Educator, Ms. Susan Carbora and Miss Helena van der Merwe, owner of A-Plus-Consulting LLC about the new approach of tailored vocational curricula for select minority autistic students that will air live on the award-winning WSOU 89.5 FM in the tristate area and wsou.net on 8 April at 8 AM EST.
They want to empower parents, special needs advocates, educators and others interested in autism spectrum disorder for an even higher standard of special needs education to provide students with 21st century skills and potential community based employment opportunities. Visit them at www.a-plus-consultingLLC.com to learn more about their firm and contact details.