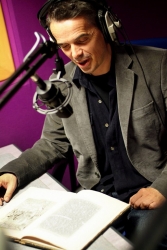 Sunderland, United Kingdom, February 07, 2008 --(
PR.com
)-- The world's first online audio bookshop for the gay community is giving away free downloadable audio poems, voiced by leading British actors, to anyone who visits its website on 14 February – the perfect solution for anyone looking for a unique gift this Valentine's Day.
Qclassics.com
sells high quality downloadable audio books aimed at the gay market, recorded by some of the UK's most accomplished film and stage actors, including West End and Broadway stars such as John Fleming and Allan Corduner, and renowned tenors such as Simon Butteriss.
Anyone visiting the website on Valentine's Day can send an 'e-card' to their loved one – or someone they'd like to get to know better – with a free download of a choice of three poems: Stranger by Walt Whitman, The Call by Rupert Brooke, and Impressions by Oscar Wilde.
Qclassics.com was launched late last year by Richard Pearce, an established voice actor who voiced the characters of 'Dennis the Menace' (BBC) and 'Budgie the Helicopter' (ITV) in the TV animation series, starred in several episodes of Animated Shakespeare, and who has featured in over 500 radio dramas playing parts as diverse as Tintin, The Mekon and Dr Who's assistant.
Richard says: "We're giving away the free e-poems to give people a wonderfully different way of showing their love this Valentine's Day. Whitman's 'Stranger' is ideal for all those seeking new love, whereas Brooke's 'The Call' and Wilde's 'Impressions' are perfect for people who are celebrating love that's real and deep.
"If people like what they hear and want to give something a bit more substantial, they can download the full poetry collections, as well as audio books such as Teleny or Valnmouth for just £7.95. An individual poem costs just a pound."
The audio books available to download at Qclassics.com are voiced by a unique array of film and stage stars, including:
• Nick Boulton (Shakespeare in Love)
• Allan Corduner (Sir Arthur Sullivan in Mike Leigh's Topsy Turvy)
• Simon Butteriss (opera star and widely regarded as the world's leading exponent of the Gilbert and Sullivan patter roles)
• John Fleming (West End star with the distinction of appearing in The Moustrap, the world's longest running theatre production, 1,800+ times)
• Eric Meyers (currently appearing in thriller movie 1408 with Samuel L Jackson)
Richard was introduced to audio books after an accident in 1983 left him partially blinded in one eye. During his time in hospital, listening to audio books provided a welcome escape, and ignited his desire to make gay literature available in audio book form.
Richard says: "High distribution and retail costs have always meant that publishers chose mainstream bestsellers for audio books, and that very little gay literature was available in audio format. I resolved to do something about it as early as 1987 but it's only in recent years, with the advent of new technologies, that it became possible."
Richard explains why he wanted to bring audio books to a wider audience: "A talking book can be a hugely welcome escape into another world, even when one feels too ill to lift one's head off the pillow. In modern life, there are many other occasions when a talking book suits, when driving or commuting or working with one's hands, for example."
Qclassics.com is a member of Codeworks Connect, a trade association for digital businesses in the North East of England.
###
Notes for editors
Photo Caption: Voice actor Richard Pearce, best known as the voice of Budgie the Helicopter, who now runs online audio book library Qclassics.com
About Qclassics.com
Qclassics.com is the world's first online downloadable
gay audio books
, set up by established voice actor and founder Richard Pearce. www.qclassics.com