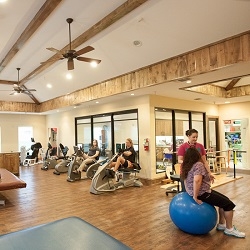 Dallas, TX, April 04, 2017 --(
PR.com
)-- Pate Rehabilitation announced the appointment of a new clinical director today who will oversee the company's three brain injury rehabilitation facilities in North Texas. Clinical neuropsychologist David B. Salisbury specializes in the evaluation and treatment of adult patients with brain injury and neurological disorders. His background in neuropsychology, rehabilitation and neurology populations provides Pate with wide ranging expertise and leadership allowing for additional expansion with new service lines and enhanced care.
Board certified in clinical neuropsychology by the American Board of Professional Psychology (ABPP), Dr. Salisbury will supervise Pate's team of neuropsychologists, psychotherapists, assessment personnel, and therapy teams in clinical settings. Pate's choice of a neuropsychologist as clinical director underscores its groundbreaking emphasis on neuropsychology in brain injury rehabilitation. Neuropsychology uniquely focuses on the relationship between neuroanatomy, cognition and behavior. This provides essential therapeutic insight into individual injuries and optimal rehabilitation plans which underlies Pate's history of innovative treatment to enhance recovery and quality of life.
Dr. Salisbury's research with neurological and rehabilitation populations has included extensive work with traumatic brain injury. He is well published and will add to the current research infrastructure of Pate which continues to explore and clarify best evidence-based clinical practices.
Dr. Salisbury received a Psy.D. in clinical psychology from Wright State University in Dayton, Ohio and completed a neuropsychology internship at the VA Medical Center in Cincinnati, Ohio. He subsequently completed a NIH-funded fellowship at the University of Alabama at Birmingham School of Medicine. In addition to a clinical career within neurorehabilitation, he has remained active in teaching and training at various universities in the DFW area.
About Pate Rehabilitation
Pate Rehabilitation provides comprehensive post-acute treatment for acquired and traumatic brain injuries and offers the only CARF accredited Specialty Stroke Program in North Texas. Pate provides inpatient and outpatient rehabilitation with centers in Dallas, Fort Worth and Anna, Texas. For more,
https://www.paterehab.com