Brand Tango Wins Six ARDYs at ARDA World 2017 Takes Home First-Ever Graphic Design Team Award
Brand Tango, an award-winning branding, design and digital agency located in South Florida, has won six ARDY Awards from the American Resort Development Association.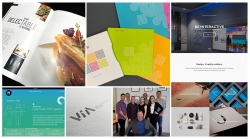 Deerfield Beach, FL, April 05, 2017 --(
PR.com
)-- Brand Tango, an award-winning branding, design and digital agency located in South Florida, has six more ARDY award trophies to add to its extensive collection; but there's one that they're particularly excited about bringing home. "This is the first year that ARDA has had a Graphic Design Team category, and I just knew I had to nominate Brand Tango's creative team for some well-deserved recognition," says Joe Russionello, founder and CEO. "The Brand Tango creative group has proven time and time again that they can continually push boundaries, create amazing analog and digital work and manage complex projects like no other. Rarely does this level of chemistry exist between a team; it's even better when their hard work and dedication to the industry over the past 11 years is recognized by other professionals."
Brand Tango also took top honors for clients Unlimited Vacation Club by AMResorts' for their fifth Anniversary magazine, Sunset World for its Tree of Life corporate brochure, VIA Destination Club in the logo category, and Magic Development for the Magic iOS sales application in the sales center materials category, as well as its own corporate website, brandtango.com.
"Brand Tango is honored to have our work recognized across so many channels, from brochures to technology applications to immersive websites," says James Kluetz, president and chief creative officer. "As the industry evolves to meet the needs of today's consumers, we've expanded our capabilities to provide more ideation, strategic, digital branding and core technology assets. ­Brand Tango is now able to deliver best-in-class emotional experiences across the entire Customer Journey through a thoughtful mix of marketing, sales and owner/member touchpoints. With continued exposure through ARDA, and in partnership with some of the leading names in the industry, we will continue to push boundaries as we seek new ways to connect new consumers to an evolving vacation ownership landscape."
The ARDY awards were presented on March 29 at the 2017 ARDA World convention of the American Resort Development Association at the Hyatt Regency in New Orleans.
Brand Tango is the place where ideas, technology and brand expression are thoughtfully blended and served up daily. Brand Tango's client list spans a wide range of industries including hospitality, vacation ownership, food and beverage, consumer products, financial services, and medical. Relying on their decades of combined expertise, the agency's principals and staff help clients find solutions that deeply impact a company's brand position and how it performs in the market. Visit brandtango.com to learn more.
Contact
Kenninger Communications
Judy Kenninger
317.858.8744
kenningercommunications.com

Contact