Brake Free Technologies Launches Indiegogo Campaign for Smart Helmet Attachment
Brake Free is an ultra bright smart LED brake light that instantly improves a motorcycle's visibility. It mounts on the back of the helmet you already own and its sensors works automatically to let others know whenever you slow down--braking, engine braking, or downshifting. No need for a wired installation or connected apps. Brake Free is simply a smarter way to be seen.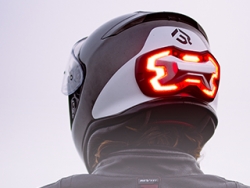 San Jose, CA, April 06, 2017 --(
PR.com
)-- The team behind Brake Free, the newest innovation in motorcycle safety, announced today that they will be launching a crowdfunding campaign on Indiegogo on March 27th, 2017.
Brake Free is a one-of-a-kind smart, high-visibility helmet accessory that commands attention. It utilizes the latest in LED technology to drastically improve rider visibility to surrounding drivers, day and night. Mounted on the back of a helmet, Brake Free is at eye level so all surrounding drivers will see the rider.
"This could be the biggest safety improvement for motorcyclists in a while," said Dennis "Budman" Kobza Jr., 2017 AMA Outstanding Road Rider Award recipient, California Motorcycle Safety Committee member and owner of Bay Area Riders Forum. "Helmet technology has gotten better, so has the gear, electronic aids have gotten better, but this is unique in terms of raising the awareness of drivers who surround us so often. I think this will save lives and many broken bodies as well."
Brake Free uses sensors to detect braking, so it is completely wireless, and requires no connection to the motorcycle's electronics. With its sensors, Brake Free automatically lights up no matter how the rider slows down: braking, engine braking or downshifting to alert surrounding drivers.
"Currently on the market there is hi-vis gear like jackets, vests, helmets, and pants," said John Clelland, Founder & Chairman of Nor Cal Ducati D.O.C. "It's a step in the right direction, but it is a static piece and will not capture the attention of a semi-glazed driver. What's nice about Brake Free is it illuminates and flashes, which makes it very dynamic and can save a rider's life."
"At Brake Free we are borrowing some of the advanced manufacturing techniques from companies like Audi and BMW," explained Ian Dunn, industrial designer at Brake Free Technologies. "We're delivering a safety product that is brighter and thinner than any other in an application like this." Brake Free uses a shape that is optimized to fit most helmets and to maximize the surface area of the lights. It uses a total of a 100 super bright LEDs to get the job done.
"What's special about Brake Free is it can detect deceleration in the direction of travel," said Johan Boot, technical co-founder at Brake Free Technologies. "Even when the head of the rider moves side to side or tips forward." Brake Free's proprietary algorithm allows it to detect braking and ignore all other movements.
Phil Ammendolia, Vice President of Sales and Marketing at LS2 Helmets, said, "After nearly 42 years of working in the motorcycle industry, and 17 specializing in helmets, one thing continues to prove true. A rider can never be too visible. The Brake Free system is about as simple as it gets, yet offers a level of visibility unavailable prior to its introduction. Brake Free is a simple and effective device that will dramatically improve the safety margin for all riders, regardless of skill level."
"We are extremely excited to introduce Brake Free to the motorcycle and scooter rider community," said Alex Arkhangelskiy, CEO and Co-Founder of Brake Free Technologies. "It is a much needed safety innovation that will help solve the visibility problem and save many lives. Brake Free is the first safety accessory to combine the latest sensor and LED technologies in a simple and beautiful product that riders will be proud to wear."
About Brake Free
Brake Free was founded in May 2014 in San Jose, California. Shortly after graduating from San Jose State University, Alex Arkhangelskiy got a chance to apprentice under a successful Silicon Valley entrepreneur, Dave Hadden. Alex learned the ins and outs of product development by working first-hand on Dave's products. While doing market research for one of his new ideas, an autonomous brake light for car drivers, Alex realized that this would be the perfect product for motorcycle riders and Brake Free was born.
Contact
Brake Free Technologies
Alex Arkhangelskiy
408-930-2785
www.igg.me/at/brakefree

Contact