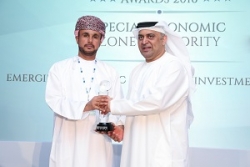 London, United Kingdom, April 06, 2017 --(
PR.com
)-- The Special Economic Zone Authority at Duqm (SEZAD) emerged winner in two categories at International Finance Magazine's
awards ceremony
in Dubai on January 2017.
SEZAD won the awards for:
1. Emerging Economic Free Zone (Investment offering) GCC 2016
2. Most Innovative Trade Free Zone, Oman 2016
SEZAD Deputy CEO Ismail Bin Ahmad Al Balushi accepted the awards on behalf of the Authority. Speaking to IFM, he said, "It is an honour to win the two awards and be recognized by the international community. Innovation is in everything we do...starting with planning to promotion to CSR. We try to accommodate our clients' requirements and whatever they need to do business. Location...outside the Strait of Hormuz is our main attraction. Secondly, service. We have a one-stop shop for clients."
Watch the full
interview
.
Duqm Special Economic Zone (Duqm SEZ) has a prime geographical position in the heart of the Arabian Sea. It stands at the crossroads of Asia and Africa, both high-growth markets. It is the largest such facility in the GCC and is spread across 2,000 square metres. It has 8 sub-zones: logistics, tourism, industrial, port & dry dock, fishers' zone, residential, education, airport zone.
Yahya Said Abdullah Al Jabri, Chairman of SEZAD, said, "Special Economic Zone Authority at Duqm is honoured and delighted to be recognized with awards for the best Emerging Economic Free Zone (Investment offering) GCC 2016 and Most Innovative Trade Free Zone, Oman 2016 by International Finance Magazine. As an innovative initiative by the government to push economic diversification and as part of our strategic goal, SEZAD aims to position Duqm SEZ as a premier investment destination to promote economic growth. We strongly believe that affirmation is great and confidence building, especially when it comes from an entity as distinguished as the International Finance Magazine. SEZAD certainly values the awards as a reflection of the dedication and commitment we put into developing the Duqm project. Thus, with Integrity and professionalism, we will continue endeavouring to provide superior services to our stakeholders. I am personally proud of the achievements of our entire team and certainly, this wouldn't have been achieved without our valued stakeholders and their continuous support."
The IFM Awards recognise and honour individuals and organisations whose activities and initiatives make a significant difference, add value and raise the bar in the global finance industry.