NYC Kosher Restaurant, Talia's Steakhouse & Bar, Will Serve Prepaid Glatt Kosher Passover Seders, Chol Hamoed & Yom Tov Meals During Jewish Pesach Holiday
Celebrate a stress-free Passover 2017 with your friends and family without spending the whole day in the kitchen and cleaning.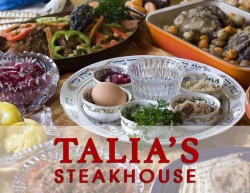 New York, NY, April 06, 2017 --(
PR.com
)-- For over fourteen years, Talia's Steakhouse & Bar has been one of the premier Glatt kosher restaurants in NYC. Since its inception, Talia's has provided prepaid Shabbat and Jewish holiday meals. Once again, Talia's is thrilled to announce they will once again be serving both prepaid Passover Seders with two seatings each night, plus serve lunch and dinner during Chol Hamoed and Yom Tov. Talia's will be open almost all day and night during this biggest Jewish holiday of the year. Relax and enjoy full service, luxurious meals over the holiday without the stress of cooking. Talia's will also feature a fully kosher-for-Passover bar.
Passover 2017 begins Monday, April 10th at sundown, with Jewish families around the world participating in the Seder ceremony. During the Seder, the biblical story of the Jewish people's slavery in Egypt is told over, culminating in the release and freedom of the Jews after the Egyptians are visited by ten plagues. One is supposed to see themselves on the Seder night as if they just got released from Egypt. It is a joyous occasion that families can spend celebrating all night.
"Since 2003, we have been celebrating the Passover Seder feast and due to great success, Talia's will offer these Seders this season again," says Manager, Adam Nagar. "If you are looking for a relaxing and stress-free way to celebrate Passover with your loved ones without spending the whole day in the kitchen, consider what has become a tradition for Passover at our popular New York City Glatt Kosher restaurant. Talia's doors are open to all Jews regardless of their background, affiliation, wealth, religious beliefs and level of practices. Anyone who wishes to know the sources of our Passover tradition through contemporary eyes is invited to participate in Talia's Passover Seders."
Talia's four-course Passover Seder Feast will include choices of grilled ribeye steak, brisket, chicken marsala, Moroccan salmon, lamb shank, scrumptious desserts, plus matzah ball soup that even Grandma would be proud of. A full, traditional Seder plate and four cups of wine will be provided for all Seder guests. Enjoy your favorite cocktails, martinis and large selection of wine from Talia's kosher-for-Passover bar.
Talia's Passover Seder on April 10th at 8PM is currently sold out. However, due to high demand, Talia's will conduct an additional Seder next door to Talia's premises. This will take place at the shul, Congregation Shaare Zedek, 212 West 93rd St.
Talia's Steakhouse is under strict rabbinic supervision to ensure everything in the steakhouse is prepared properly according to kosher laws. All food for the holiday is precooked (if it falls on Shabbat) and all meals are prepaid, as the exchange of money is prohibited during the holiday. Because of this, reservations must be made in advance. No walk-ins are allowed during Jewish holidays with prepaid meals.
A couple of nights prior to Passover 2017, Talia's will prepare a team to clean the entire kosher Manhattan restaurant overnight to ensure there is no chametz left on the premises. To read a general description of the process of making the restaurant kosher-for-Passover, please visit:
https://www.dnainfo.com/new-york/20120403/upper-west-side/uws-restaurants-mark-passover-with-deep-cleaning-seder-menus#ixzz2HGlqclWb
Talia's is now taking prepaid reservations for Passover 2017. Whether you are looking for a spot for yourself or are bringing a large family, all are welcome to attend. Talia's romantic ambiance with candles and roses on each table make it an ideal spot for couples looking to celebrate the holiday. Space is limited, so early reservations are recommended.
Talia's Steakhouse & Bar is located at 668 Amsterdam Avenue (between 92nd and 93rd Streets), New York, NY 10025. It is located near many hotels and synagogues, a list of which can be found here:
http://taliassteakhouse.com/nearby-hotels/
Talia's Steakhouse specializes in the finest, affordable, Glatt kosher catering for Passover and other Jewish holidays and celebrations in New York. Talia's will cater any party size at your home or synagogue. Deliveries and pick-ups are also available. Glatt kosher doubled-wrapped package delivery may be available to other restaurants, hotels and other locations. Talia's staff is available daily to help work out all the details.
Read Talia's great media feedback:
http://www.examiner.com/article/kosher-passover-seder-at-talia-s-steakhouse-on-uws
http://blogs.jpost.com/content/nyc-has-slammin-food-passover-year
http://thestrongbuzz.com/potluck/details.php?item_id=89
To view full holiday schedule, menus and prices, please visit Talia's dedicated Passover page:
http://taliassteakhouse.com/holidays/jewish-holidays/passover/
Contact
Talia's Steakhouse & Bar
Amitai Glaser
212-580-3770
taliassteakhouse.com

Contact