Small Phoenix Company Awarded National Collegiate Product License
Scottsdale, AZ, April 11, 2017 --(
PR.com
)-- VM&RC Enterprises, an Arizona based toy and entertainment products company, today announced that it has negotiated a license from the Collegiate Licensing Company (CLC) to produce a first-ever, high quality mini-basketball backboard set, featuring the NCAA Division I Men's and Women's Basketball Champions: the University of North Carolina Tar Heels and the University of South Carolina. The company, working through its partners, is expected to commence production of The College Championship Slam backboards in the next few weeks, and will also begin the pre-order process from various retail stores and on-line shopping sites. The Manufacturers Suggested Retail Price is expected to be $49.99. More information about the product can be seen, and interested people can sign up to receive updates about availability, on the website College Championship Slam.
"We are thrilled to be awarded the opportunity to commemorate this national championship for the UNC Tar Heels and the University of South Carolina Gamecocks," said Victor Mason, CEO of VM&RC. "It is the first time the NCAA and CLC have ever authorized a championship backboard license. We are looking forward to creating a special product for this occasion. It is, also, notable that we are Arizona-based, and the Final Four here was deemed such a success," said Mason.
The backboard is constructed of a durable clear polycarbonate and can hang on a standard door of a bedroom, office, dorm or playroom with included brackets. Additional specifications can be found on the website.
Two partners—Vic Mason and Rich Calta—started VM&RC in 2011, in Scottsdale, Arizona. Mason is the inventor, famous for Monster Slam, the talking indoor basketball backboards, licensed by the NBA, that sold over 800,000 units in the late 1990's. Today, VM&RC consists of a small and dynamic team of entrepreneurs - former Nike executive Vada Manager, Judy Mullins, Denise Meridith, Mary Gustaff, and Donnis Henry-who have talents encompassing manufacturing, business development, graphic arts, public relations and sports marketing. VM&RC is licensed by the Collegiate Licensing Company (CLC), the trademark licensing affiliate company of IMG College, which has been "the leader in connecting passionate college fans to their favorite college brands for more than three decades." CLC represents nearly 200 colleges and universities.
VM&RC and its Seattle-based partner Brass Key Inc. are currently in discussions with other universities and corporations to produce themed, branded backboards and other products, providing many more happy memories for fans throughout the US. Brass Key has produced a variety of toys and entertainment products for major licenses such as Disney and private label programs sold in major retailers such as Target and Wal-Mart.
Contact
VM&RC Enterprises
Denise Meridith
602-763-9900
www.collegechampionshipslam.com

Contact
Multimedia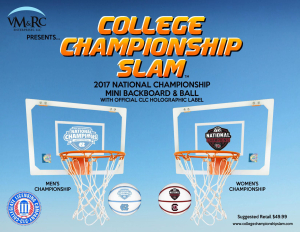 Two versions will be available: one for the men's UNC Chapel Hill Tar Heels and one for the women's USC Gamecocks.