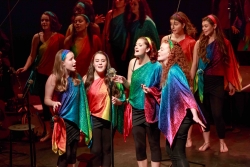 Napa, CA, April 11, 2017 --(
PR.com
)-- Experience a musical celebration with VOENA in their new concert season, "Voices of Now!" This inspiring collection of songs arranged by Annabelle Marie draws out the original songs' complexities in a new and exciting way. Renditions of Leonard Cohen's "Hallelujah" and unique vocal harmonies of "Life On Mars" by David Bowie make their debut arrangements, with added flavors from our special percussion group, VOR (Voices of Rhythm), led by world percussionist Jeff Campitelli.
Enjoy spring and bring the whole family to support VOENA's mission, "to unite the world and empower future leaders through music.
Ticket cost is $25-$30 for adults purchased in advance. Tickets are on sale now at www.lincolntheater.com (May 6th concert), www.nvoh.org (May 20th concert) or at
www.VOENA.org
. Additional information can be found at
www.VOENA.org
.
About VOENA
VOENA is an award-winning children's a capella singing group, serving over 120 children ages 6 to 18 at two regional chapters in Benicia and Santa Rosa. Director, Annabelle Marie inspires children to celebrate music through voice, sound, rhythm, and physical expression. Singing in over 25 languages, VOENA has performed around the globe inspiring audiences at the 2012 London Olympics, the Grand Ole Opry, as repeat guests at the White House, for Pope John Paul II at the Vatican in Rome, and as goodwill ambassadors to Bali, Italy, Ireland, China, and Japan. VOENA was the first American Choir to sing at the Soweto Festival in South Africa. VOENA will be performing at Carnegie Hall, New York City in Spring 2018 to spread their mission to unite the world and empower future leaders through music.
Photo Credits: Cindi Stephan of Two Irises, www.twoirises.com