Dare to do be Different - 10 Spicy Romantic Valentine's Day Ideas
Struggling to find the perfect gift or getaway for your loved one? Make this Valentine's Day unique, spicy and fun with the Terra Cotta Inn Clothing Optional Resort and Spa's ten romantic suggestions.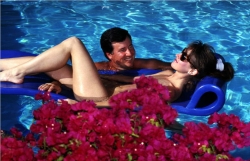 Palm Springs, CA, February 07, 2008 --(
PR.com
)-- What is the perfect Valentine's gift? It is the gift of time with your spouse or partner. You need to disconnect from the world and just spend some fun time with each other. Forget work, kids, the phone, e-mails and everything else that get's in the way of spending quality time together.
Here are 10 fun, spicy Valentine's day suggestions on how to spend some romantic time together.
1). Dare to Bare. Try a vacation at one of the top clothing optional resorts in the U.S., The Terra Cotta Inn Clothing Optional Resort and Spa located in sunny Palm Springs, CA.
http://sunnyfun.com
Called the most mainstream nudist resort in America, it is perfect for couples trying topless or nude sunbathing for the first time. Nothing is more romantic than the both of you relaxing poolside, sipping ice cold beverages, wearing nothing but your birthday suits and smiles, and gazing romantically into each others beautiful eyes.
2). If you don't have time to travel to Palm Springs on February 14th, create your own clothing optional resort. Book a favorite bed and breakfast, boutique resort, or even chain hotel. Once you check in, crank up the room heat, and check out of your clothes for the weekend. Order in room service. Don't forget some candles. Lingerie can be optional.
3). A box of chocolates on Valentine's Day is so ordinary. How about some chocolate syrup, with whipped cream, berries, and nuts mixed in for good taste? Maybe you should buy that box of chocolates after all. You will be needing that extra energy all night long.
4). Make your own naughty Valentine's card. Be real creative and spicy.
5). Flowers or roses are always appreciated. A surprise of rose petals on the sheets is even more romantic.
6). Rub it in. Bring along some massage oil. If you are all thumbs, then schedule a relaxing massage with a massage therapist.
7). On a budget? No problem. Make your bedroom your own clothing optional love nest. Trade off with the neighbors to babysit the kids.
8). Plan a romantic candlelit dinner at home. Order in. Even Chinese or pizza tastes much better when you are drinking champagne or wine. And a naked dinner is much more romantic by candle light.
9). Love is in the details. Have your favorite music handy on CD or iPod. Rent or buy your favorite movie. Buy popcorn or chips and dip. Buy a guidebook about a travel destination you have been dreaming about going to or download information from the net. Plan your next romantic vacation together.
10). If work or the kids are keeping you tied down this Valentine's Day, create a romantic vacation gift certicifcate. It is Ok to delay your romantic escape. Palm Springs will still have lots of sunshine when you can getaway later in the year.
Romantic vacations don't have to be celebrated just on February 14th. They can be celebrated any day of the year. Valentine's Day is all about reminding the special someone in our lives how much we love them.
This Valentine's Day, you want to remember why you fell in love. Dare to be different and more romantic. You both will be happy that you did.
The Terra Cotta Inn clothing optional resort is considered one of the most romantic resorts in Palm Springs. They can be reached at 1-800-786-6938 toll free in the U.S. and Canada.
###
Contact
The Terra Cotta Inn Clothing Optional Resort and Spa
Tom Mulhall
1-800-786-6938
http://sunnyfun.com

Contact