LightPointe Deploys Next Generation 60 GHz Wireless Bridge for Repeat Customer Crossroads School, Running IP Phones, WiFi Access Points, and Gigabit Capacity
The AireLink 60 provides full duplex Gigabit capacity data transmission, high availability, and superior security, without having to trench for fiber. Wireless bridges can replace fiber and other more costly methods of transmitting data and digital video, and help organizations reduce their recurring monthly IT expenses.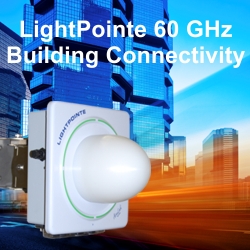 San Diego, CA, April 14, 2017 --(
PR.com
)-- LightPointe, a leading manufacturer of millimeter wave point-to-point radios and laser bridges used for ultra high capacity building to building data network connectivity, security camera backhaul, and wireless backhaul for service providers announced that a school successfully deployed the company's 60 GHz wireless bridge. Due to campus expansion, the AireLink 60 was installed to wirelessly connect from one building to another, and avoid the costs and permits which would have been required to trench for fiber.
"When a previous customer of LightPointe once again turns to us to solve their building connectivity challenges, it's a privilege and an honor," said John Taylor, vice president of sales for LightPointe. "Crossroads School first installed LightPointe wireless bridges nearly 20 years ago, and it was time for an upgrade. Our AireLink 60, which offers Gigabit capacity data transmission, and the industry's only nine levels of modulation to automatically optimize performance and reliability, is our most successful product to date, and we're pleased that Crossroads once again put their confidence in LightPointe."
Crossroads School for Arts & Sciences, which was founded in 1971, is a leading school for children K-12, with two campuses in Santa Monica, California.
"After expanding our 21st Street Campus, it came time to upgrade our wireless bridges," said Jeff Kuo, senior network administrator for Crossroads School. "I had tried other point to point radio brands over the years and I'd had a terrible time with them. Then I remembered that our school had installed LightPointe wireless bridges back in the 1990s. I went to the LightPointe website and became convinced that the company's AireLink 60 would be a good fit. So we installed them, which was much easier than I expected. We are currently running IP phones, clocks, PA systems, projectors, and printer Wi-Fi Access Points to the building through the AireLink 60 radios with a solid and reliable Gigabit connection. As our campuses grow, we will definitely be looking into more LightPointe wireless bridge products."
About LightPointe
LightPointe (www.LightPointe.com) is a San Diego manufacturer of wireless bridges for campus building-to-building connectivity, 4G and 5G LTE telecom networks, video security and surveillance networks, and industrial wireless applications. The company's products are designed and manufactured in the USA, and supported through an international network of authorized distributors and resellers.
Contact
LightPointe Communications, Inc.
Todd Easterling
+1-858-834-4083
www.lightpointe.com

Contact