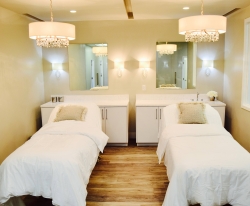 Laguna Niguel, CA, April 15, 2017 --(
PR.com
)--
Wake Up Beautiful
, a medical beauty spa located in Laguna Niguel, CA, has undergone several months of construction and finally opened its new doors on April 3rd, 2017. The medical spa, which has been in business since 2001, now includes a fully functional Brow Bar for Microblading and Permanent Makeup treatments, as well as several private rooms for the other services offered.
Microblading, Permanent Makeup, and Eyelash Extensions have become some of the most sought after beauty procedures, and Wake Up Beautiful's new facility is equipped to offer all three. Microblading is the newest craze in the Permanent Makeup field, as it mimics the appearance of hair in the brow line, providing fuller brows! Wake Up Beautiful also specializes in permanent eyeliner, as well as lip liner and color.
In addition to these services, Wake Up Beautiful offers Body Sculpting, Hi-Tech Facials, and Medical Services such as Botox, Fillers, Intense Pulsed Light (IPL) facials, and Chemical Peels. Their body sculpting treatment is used to remove cellulite dimples and create smooth skin, while the Hi-Tech Facials utilizes YAG and IPL lasers to brighten and tighten skin. According to Wake Up Beautiful, all treatments are customizable to fit the client's needs.
Most recently, Wake Up Beautiful has added a service called NovaThreads, which is a non-surgical face lift procedure. NovaThreads are needles that have been pre-loaded with a Polydioxanone (PDA) thread, which stays in the subdermal level of the skin, leaving results for 12 to 15 months. Wake Up Beautiful is the first medical beauty spa in the Laguna Niguel area to offer the NovaThreads treatment.
On Saturday, April 29th, 2017, Wake Up Beautiful will be hosting a Grand Opening Party from 12pm to 5pm. The event will include champagne, hors d'oeuvres, and discounted specials all day. Customers who join Wake Up Beautiful's once or twice a month Hi-Tech Facial membership during the Grand Opening will receive add-on treatments for $25 per area. Additionally, if a customer books a Permanent Makeup or Microblading treatment, he or she will receive the second treatment for 35% off. Finally, medical treatment discounts are as follows: Botox will cost $10 per unit (25 unit minimum), Fillers are all buy one syringe, get the second one 35% off, and Viva RF treatments are discounted by $100. Attendance at the Grand Opening Party is required to unlock these savings.