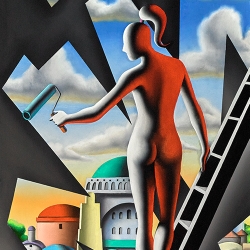 New Orleans, LA, April 22, 2017 --(
PR.com
)-- "Why are the figures faceless? It's a universal language free of racial limitations, and a reflection of society's fear of individuality." -Mark Kostabi
Artist and composer Mark Kostabi was born in Los Angeles in 1960 to Estonian immigrants. He was raised in Whittier, California and studied drawing and painting at California State University, Fullerton. In 1982 he moved to New York and by 1984 he became a leading figure of the East Village art scene. During that time he also developed a provocative media persona by publishing self-interviews which commented on the commodification of contemporary art. In 1988, inspiring extensive international press coverage, he founded Kostabi World, his large New York studio known for openly employing numerous painting assistants and idea people.
In the 1990s his works were widely exhibited in New York galleries and prominently throughout the United States, in Japan, Germany and Australia. For the past ten years Kostabi has been dividing his time between New York and Rome and consequently his work's already strong presence in the Italian art scene has been greatly enhanced.
Since 1975 Martin Lawrence Galleries New Orleans and their 9 other locations in North America have assisted collectors in making their art acquisitions an exciting and rewarding experience. They specialize in original paintings, sculptures and limited editions by Warhol, Haring, Murakami, Chagall, Picasso and many others.
Follow Martin Lawrence Galleries on Twitter (@TweetMLG), Facebook (@martinlawrencegalleries) and Instagram (@martinlawrencegalleries).
# MarkKostabi
Contact Information:
Martin Lawrence Galleries New Orleans
Katia Graytok
203-989-2073
http://433Royal@Martinlawrence.com
504-299-9055